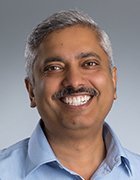 Sanjay Gupta is vice president of product management at WiTricity and is an entrepreneurial technology executive with a proven track record of conceptualizing, building and delivering innovative solutions and products.
Most recently, Sanjay was vice president of product development at a startup, where he was responsible for all aspects of product and technology development for electronics that are thin, stretchable and flexible and have the same mechanical properties as that of human skin. Previously, Sanjay was vice president of product management and development at Motorola where he led the commercialization of innovative consumer electronics products for wearable and mobile devices and accessories markets. Prior to joining Motorola, Sanjay was a professor of electrical and computer engineering at Illinois Institute of Technology.
Sanjay holds over 15 patents and has over 40 publications in archival journals and leading academic conferences. Sanjay received his Ph.D. in Systems and an M.S. degree in Electrical Engineering, both from the University of Pennsylvania. He received his B.Tech degree in Electrical Engineering from Indian Institute of Technology, Kanpur.