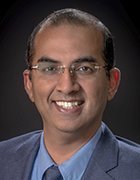 Sanjay Sharma, CEO and co-founder of Roambee, is transforming enterprise logistics and asset management with on-demand real-time visibility, tracking and condition monitoring for goods and assets in-transit and in-field using IoT smart logistics.
Sanjay's IoT vision has pushed the boundaries outside the four walls of global enterprise with patented hardware and software technology, which includes an array of sensor data, proprietary analytics, predictive reporting and open APIs. Since its inception in 2013, Sanjay has led Roambee into new markets, impacting the P&L sheets of companies from every imaginable industry, including pharmaceuticals (safeguarding conditions), food/beverages (integrity of food source), chemicals (transportation on market vehicles), consumer electronics (shipment security) and automotive (just-in-time visibility and insights), among just a few.
Prior to Roambee, Sanjay co-founded two Silicon Valley technology startups -- KeyTone Technologies, which was acquired by Global Asset Tracking Ltd., and Plexus Technologies, which became an ICICI Ventures portfolio company. He has also been a part of the engineering teams at EMC, Schlumberger and NASA.
Sanjay has a bachelor's degree in electronics engineering from the University of Bombay, and a Master of Science in electrical engineering from South Dakota State University.
Sanjay Sharma's Most Recent Content