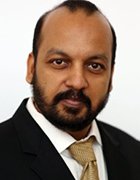 Sapan Agarwal is a senior director at Frost & Sullivan Asia Pacific. He has comprehensive understanding of the global market dynamics and over 15 years of research and consulting experience in diverse industries.
Agarwal has authored a number of market research reports and strategy studies on diverse subjects including technology, sustainability and innovation. He has also worked on strategic consulting projects advising clients on market trends and strategies. and also helps them position themselves on growth trajectories.
Agarwal has a number of industry-specific articles to his credit and has been quoted widely in both online and print media.