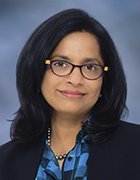 Seeta Hariharan
General Manager & Group Head, TCS Digital Software & Solutions Group, Tata Consultancy Services
Seeta Hariharan is GM and group head of TCS Digital Software & Solutions (DS&S) Group, where she is responsible for overseeing all aspects of operations for this new strategic growth unit with its own P&L. Hariharan sets the strategic direction for the unit, establishes product direction and ensures the solutions designed and delivered meet business needs. She is also responsible for equipping engineering with the staff and resources needed to execute against a visionary roadmap and oversees sales and marketing efforts to establish TCS in the licensed software business.
Hariharan comes to TCS from IBM where she held leadership roles in IBM's software, services, hardware and microelectronics divisions. In her last role at IBM, she ran information management software sales, channels, business development and strategy worldwide for several industry verticals. Prior to this role, she had worldwide responsibility for marketing of IBM's communications sector that represents approximately $10 billion in annual revenues. She has also held sales leadership roles within IBM's services and microelectronics business units during which she drove several successful engagements with CPG, aerospace and defense, healthcare, retail and telecom clients. She was instrumental in establishing the M&A strategy for IBM's communications sector in 2007.
Hariharan holds engineering and management degrees, latter from Northwestern University Kellogg School of Management. She is a co-inventor of 23 global patents.
Seeta Hariharan's Most Recent Content