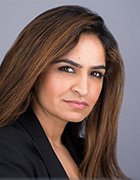 Shaheen Sayed
Senior managing director of health and public service -
Accenture -
Shaheen Sayed is Accenture's senior managing director of health and public services in the UK and Ireland.
She is responsible for providing transformational solutions to the public sector using new platforms and ways of thinking, and holds significant experience from her global career at Accenture where she has led transformation programmes for public and private sector clients.
Sayed has also been listed Top 100 influential Black and Minority Ethnic (BAME) Global leaders by the Financial Times and EMpower.
Shaheen Sayed's Most Recent Content