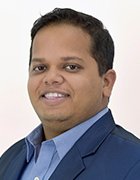 Sharad Shankar is an IoT-focused hardware engineer at Enertiv, a real estate technology company that uses IoT to build data-driven solutions to improve building operations.
Shankar specializes in IoT-based smart building systems that are affordable, easy to install and capture enormous amounts of data from large commercial buildings. This includes both iterating upon the company's own power sensor devices and partnering with manufacturers to deploy a range of sensor types.
He is responsible for product development, working closely with the software team in the integration of data from IoT devices. Whether it's installing a new sensor or retrofitting an existing device, it is Shankar's responsibility to find the right application for the problems.
Sharad Shankar's Most Recent Content