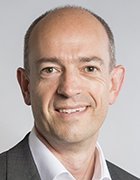 Simon Segars, CEO, has been at the heart of transformational change in the technology industry for 25 years. He led the development of early ARM processors for the world's first digital mobile phones and now spearheads ARM's vision for smart and connected technologies that create better social, economic, education and health prospects for all. Before being appointed CEO in July 2013, Simon held several leadership positions within ARM's engineering and business development teams. He lives in California's Silicon Valley, but spends much of his time meeting leading influencers in the world's technology hubs in the U.S., Europe and China.
Simon serves on the boards of the Global Semiconductor Alliance (GSA), the Electronic Design Automation Consortium (EDAC), and as a non-executive director at Dolby Laboratories, Inc.
He holds a number of embedded CPU architecture patents and earned his BEng in electronic engineering from the University of Sussex as well as an MSc in computer science from the University of Manchester.
Simon Segars's Most Recent Content