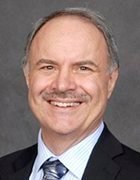 Stan Schneider
Chief Executive Officer (CEO), Real-Time Innovations (RTI)
Stan Schneider is CEO of Real-Time Innovations (RTI), the Industrial Internet of Things connectivity platform company. RTI is the largest embedded middleware vendor, with an extensive footprint in all areas of the Industrial Internet of Things, including Energy, Medical, Automotive, Transportation, Defense and Industrial Control. Appinions recently named RTI the "most influential" company in the Industrial Internet of Things in an article published in Forbes and Reuters.
Stan is the small company representative on the Industrial Internet Consortium Steering Committee. With over 200 companies, the goal of the IIC is to develop, test, and promote the standards that are crucial to the success of the next industrial revolution.
Stan serves on the advisory boards for Smart Industry and IoT Solutions World Congress. Embedded Computing Design Magazine presented Stan the Top Embedded Innovator Award for 2015.
Stan holds a BS and MS from the University of Michigan and a PhD in Electrical Engineering and Computer Science from Stanford University.
Stan Schneider's Most Recent Content