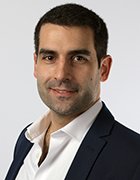 Steve Santini
UK&I channel director -
APC by Schneider Electric -
Steve Santini is the UK&I channel director of APC by Schneider Electric. In his role, Steve is responsible for leading the UK and Ireland IT channel group to support partners with industry-leading technical expertise, mission-critical IT and disruptive technologies that enable rapid digital transformation.
Steve joined APC from StorMagic in 2018 with a background across the sales, business development and marketing domains. He believes in taking a partner-first approach to the channel, offering sales support, training programs and marketing tools that enable them to both identify and capitalize on emerging trends.
As channel businesses continue to adapt to an ever-changing and unpredictable market, Steve believes that by taking a value-add approach, and supporting partners with innovative new technologies that disrupt and provide a longer-term return on investment, he will help partners, and their customers find success.
Connect with Steve on LinkedIn.
Steve Santini's Most Recent Content