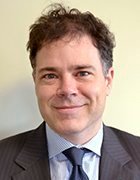 Steven H. Bayless
Vice President, Technology and Markets -
Intelligent Transportation Society of America (ITS America) -
Steven H. Bayless is the Vice President, Technology and Markets, and Senior Director of Telecommunications and Telematics at the Intelligent Transportation Society of America (ITS America). He is responsible for providing guidance to ITS America's Board of Directors and senior staff on matters involving new technologies, wireless services and evolving automotive platforms, intelligent transportation infrastructure, operations and customer services.
Steven previously served as staff advisor and Presidential Management Fellow in the Secretary of Transportation's policy office at US DOT headquarters. Steven had cabinet-level lead in policy related to research and development, spectrum management and telecommunications policy.
As a detailee to the White House, he assisted in formulation of several presidential directives on aerospace policy, focusing in particular on satellite navigation. He also advised the State Department and the Federal Aviation Administration in negotiations on space and aviation cooperation with the European Union, the Russian Federation and Japan. In the surface transportation domain, Bayless supported secretarial policy initiatives regarding the reorientation of federal research and development, highway safety, and transportation infrastructure finance reform.
Steven's career also includes tenure as a management consultant with American Management Systems (now CGI) in Washington DC, and as a Project Coordinator for DuPont Europe in Budapest, Hungary. Steven holds a specialized masters degree from the Fletcher School at Tufts University in International Security Studies and Business. His bachelor degree is in Economics and Foreign Affairs from the University of Virginia. He has also completed graduate work at Harvard Business School and MIT Sloan School of Management in Cambridge Massachusetts, and at Eötvös Loránd University in Budapest, Hungary.