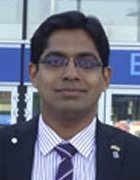 Sujit Karpe
Chief Technology Officer -
Saviant Consulting -
Sujit Karpe is a highly respected technology leader and an acclaimed software architect. He is passionate about the latest technologies, with in-depth and hands-on understanding of Microsoft Azure PaaS, Azure IaaS, Enterprise Mobility, Data Analytics and Software as a Service (SAAS).
He is a Microsoft Azure architect who is also an expert in MVC, ASP .Net, Xamarin, Kendo UI, SQL and noSQL, HDInsight and Hadoop.
With over 11 years in software consulting and enterprise applications development, he brings rich cross-functional experience, passion for innovation and expertise in transforming technology strategy into high quality enterprise products.
Sujit is a computer science engineering graduate from Pune University. He lives in the city of Pune and likes to spend time traveling and discovering new food recipes.
Sujit Karpe's Most Recent Content