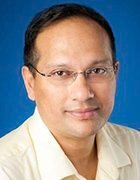 Sukamal Banerjee is the business unit head of "IoT WoRKS" -- HCL Technologies' internet of things (IoT) business unit. This includes the charter for extending HCL's thought leadership in IoT, creating market space, positioning and managing overall BU growth strategy, P&L and customer satisfaction across all vertical markets globally.
He also is the global head of engineering services (ERS) business line at HCL Technologies focused on high-tech and communications markets. This involves defining market strategy, P&L responsibility and leading business development teams to drive new business growth. In addition, he leads HCL ERS' global strategy and investments around emerging technology transformations along with product management and service line unit development for worldwide markets.
In a career spanning two decades, he has been instrumental in establishing HCL's market leadership in the engineering outsourcing business and in creating some of HCL's Top 5 accounts and large-scale partnership agreements. He has been responsible for many of the first-of-its-kind relationships with customers covering unique business models, entry into new geographic markets, entry into new vertical market segments, and also pioneering wins of new service lines.
Sukamal started his career as a software engineer, developing algorithms and software products across several aspects of object-modeling and manufacturing-outcome optimizations. He continues this passion on tracking and analyzing the future of technology, emerging trends and its impact on enterprises. He also spends significant time reading about new developments in field of human psychology, especially the understanding of how the brain works and its impact on the function of people, teams and the enterprise.
He is a frequent speaker in several industry and technology forums with focus on communications, digital businesses and IoT. He has also authored various articles around emerging technology trends such as IoT, 3D printing among others.
Sukamal holds a bachelor's degree in mechanical engineering and an MBA in finance, and is based out of Seattle. In his free time, he loves to catch up on sports, especially anything to do with Manchester United and the Seattle Seahawks.
Sukamal Banerjee's Most Recent Content