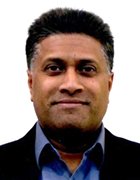 Suresh Ram is president of u-blox Americas, a wholly owned subsidiary of u-blox AG, a Swiss leader in wireless and positioning technology. He is responsible for sales, marketing, field applications and operations aimed at supporting the growing regional customer base.
Prior to joining u-blox in 2017, Ram was the head of the RF and Sensor Business Unit, Americas at Infineon Technologies. Ram has been working in the semiconductor and automation industries in roles including general management, marketing and leading engineering teams to develop products for wireless infrastructure, consumer, medical, industrial automation, test equipment, military and aerospace markets.
He holds a Master of Business Administration from Santa Clara University and Master of Science in electrical engineering from Clemson University, U.S.
Suresh Ram's Most Recent Content