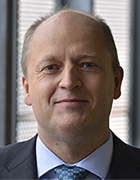 Svein-Egil Nielsen is chief technology officer at Nordic Semiconductor, a company that became the world's leading Bluetooth chip supplier by removing all unnecessary technical complexity to maximize Bluetooth's applicable application range and now aims to do the same in cellular IoT with its LTE-M/NB-IoT module solutions.
Nielsen, who was chairman of the Bluetooth SIG from 2012 to 2014 and is today responsible for all of Nordic Semiconductor's R&D activities, oversaw Nordic's cellular IoT strategy from the start when the company hired some of the smartest cellular R&D engineers in the world following a bout of rationalization layoffs in Finland between 2011 and 2014 from companies such as Nokia, Microsoft, Broadcom and ST-Ericsson.
Nielsen joined Nordic Semiconductor in 2001 as director of sales and marketing. He held positions as R&D director from 2005 to 2006, and director of emerging technologies and strategic partnerships from 2010 to 2012. Additionally, Nielsen served Innovation Norway as the director of its San Francisco and Houston offices, where he was in charge of promoting Norwegian technology in the U.S. from 2007 to 2010. Prior to joining Nordic Semiconductor, Nielsen worked for Boston Consulting Group in Oslo as a consultant. Nielsen has an MBA from the Haas School of Business at the University of California, Berkeley and a B.Eng. honors degree in computer and electronics systems from the University of Strathclyde, Scotland.
Svein-Egil Nielsen's Most Recent Content