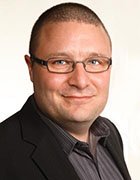 Tim Sheedy
Principal Advisor -
Ecosystm -
Tim Sheedy brings more than 20 years of experience in designing and implementing cloud, internet of things (IoT), artificial intelligence (AI) and automation strategies to the Ecosystm network, to support businesses in their IT decisions.
In his previous role, Sheedy spent 12 years at Forrester Research, most recently as a principal analyst, helping IT leaders improve their digital capabilities. Prior to this, he was research director for IT solutions at IDC in Australia, where he assisted IT suppliers in designing solutions to better fit market requirements, and IT buyers in improving the effectiveness of their IT functions.
Beyond the office, Sheedy boasts an international reputation as an entertaining and informative public speaker on key trends in the IT market.
Tim Sheedy's Most Recent Content