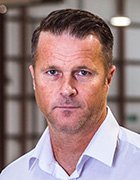 In his 20-year career, Tim has headed up sales and marketing functions for a number of information technology and services companies across the world.
Since joining Stone Group in 2018, Tim has strategically led the company's education and public sector business and continued to drive Stone's growth and its presence in the UK SMB and mid-market space.
Passionate about sustainability and responsible IT asset disposal, Tim is spearheading Stone's initiative to tackle the IT industry's enormous e-waste challenge with the introduction of the Stone 360 app.
Tim Westbrook's Most Recent Content