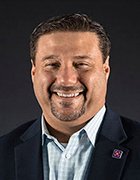 Tom Amburgey grew up in a military family where he developed a deep passion for public service. That passion has driven him through 20+ years of experience in the public sector, working as both a public sector CIO and a leader in software firms dedicated to the public sector. His passion remains today as he leads the public administration business unit at CentralSquare.
As a CIO, Tom was recognized nationally as an innovative technology leader and spoke internationally on many government technology topics. Tom has used his innovation and management skills in the private sector to successfully lead multiple transformation projects across a variety of operational units. He has provided leadership through the completion and integration of several mergers and acquisitions and is currently leading CentralSquare's transition into being a world-class SaaS provider. He has a B.S. in organizational management from Palm Beach Atlantic University and an MBA from the University of Florida.
Originally from Orlando, Fla., Tom is an avid college sports fan, enjoys woodworking and recently started riding motorcycles. He lives with his wife in Mount Dora and has three adult children -- a student at the University of Florida, an active-duty member of the Navy and one of whom plays professional baseball.
Tom Amburgey's Most Recent Content