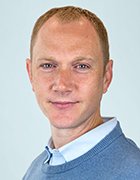 Tony Pepper
Ceo and co-founder -
Egress -
Tony Pepper is the CEO and co-founder of Egress. With nearly 15 years' experience in taking high-tech data security products to market, Tony has a strong track record of successfully creating innovative technology solutions designed to meet the demands of modern business trends.
Executing against his strategic vision since Egress' inception in 2007, Egress has rapidly matured from startup, to scaleup, to hyper-growth. Most recently, Tony has focused on building on the company's success in the UK to expand rapidly into North America.
A highly confident leader and adaptable team player, Tony is a member of several industry focus groups, a certified BCS fellow, frequent speaker at technology seminars, and trusted advisor to SMEs, enterprise organisations, and UKgovernment.
Tony has been named one of The Lloyds Development Capital (LDC) 50 Most Ambitious Business Leaders for 2018 in the 'World Beaters' category (supported by The Telegraph).
Tony Pepper's Most Recent Content