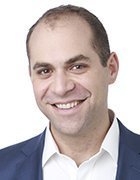 Wael Elrifai
Director of Enterprise Solutions -
Pentaho (A Hitachi Group Company) -
Wael Elrifai is an avid technologist and management strategist, bridging the divide between IT and business as Pentaho's EMEA Director of Enterprise Solutions. He has been working in IoT, machine learning, the broader artificial intelligence field and the big data ecosystem for the past decade. Wael has served corporate and government clients cross North America, Europe, the Middle East and East Asia across a number of industry verticals and has presented at conferences worldwide.
With graduate degrees in both Electrical Engineering and Economics, he is a member of the Association for Computing Machinery, the Special Interest Group for Artificial Intelligence, the Royal Economic Society and Chatham House.
Wael also serves on the boards of two charitable organizations and enjoys tinkering with "bleeding edge" technology, private aviation and adventure travel.
Wael Elrifai's Most Recent Content