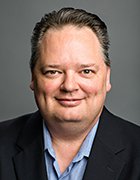 Wayne Dorris is a business development manager for Axis Communications covering North America. In this capacity, Dorris generates awareness and assists with cyberstrategy and demand in Axis products. He also influences IP solutions for all segments of Axis' business relative to cybersolutions. Through relationships and networking with all standards of organizations, associations, partners, customers and interface with corporate headquarters, Dorris drives the growth toward Axis' business goals.
Dorris has 25 years of experience in the security industry, including a dozen years in regional and senior management positions dedicated to field implementation of A&E programs. Prior to joining Axis, Dorris held the position of applications and field sales engineer for other security manufacturers. He also served eight years as the technical security director for a major fortune 150 company.
Dorris is a Certified Information Systems Security Professional (CISSP) issued by the International Information Systems Security Certification Consortium. The CISSP certification is globally recognized, for individuals that can design, implement and maintain an information security program in a business. Dorris is also an active member of ASIS.
Wayne Dorris's Most Recent Content