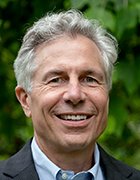 Wayne Eckerson
Industry Analyst -
TechTarget -
Wayne Eckerson has been a thought leader in the business intelligence and analytics field since the early 1990s. He is a sought-after consultant and noted speaker who thinks critically, writes clearly and presents persuasively about complex topics. Eckerson has conducted many groundbreaking research studies and written two widely read books: The Secrets of Analytical Leaders: Insights from Information Insiders and Performance Dashboards: Measuring, Monitoring, and Managing Your Business. He is currently working on a book about data governance.
Eckerson is an industry analyst at TechTarget and principal consultant of Eckerson Group, a business-technology consulting firm that helps business leaders use data and technology to drive better insights and actions. His team provides cutting-edge information and advice on business intelligence, performance management, data warehousing and big data.
For many years, Wayne served as director of education and research at The Data Warehousing Institute, where he oversaw the company's research and training programs and chaired its BI Executive Summit. He also served previously as an industry analyst at the Patricia Seybold Group.
Wayne Eckerson's Most Recent Content