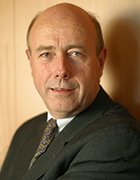 Yves Le Roux (CISSP, CISM) is co-chair of the (ISC)2 EMEA Advisory Council.
After his graduation from Paris University in 1970, Yves Le Roux worked in the Rothschild Group where, among others tasks, he was in charge of the network security and other security-related issues.
In 1981, he joined the French Ministry of Industry where he was in charge of the Open Systems Standardization programs.
In 1986, he took the position of European information security manager at Digital Equipment. Then, he joined the security research and development team. In 1999, he went to Entrust Technologies as a PKI software editor. In 2003, Le Roux joined Computer Associates as a technology strategist.
He has co-authored three books on security, is a lecturer at ISEP (Paris Graduate Engineering School) and is a regular speaker at security conferences.
Yves Le Roux's Most Recent Content