WavebreakMediaMicro - Fotolia
Blockchain and cloud combine to fuel enterprise adoption
While still in its infancy, blockchain technology is no longer theoretical. And cloud providers will line up to cash in, as enterprises plan to invest millions.
As interest in blockchain rises within -- and well beyond -- the financial services industry, cloud providers and...
Continue Reading This Article
Enjoy this article as well as all of our content, including E-Guides, news, tips and more.
IT teams alike will play a critical role in making this technology an enterprise reality.
Global spending on blockchain services and technology will reach $2.1 billion in 2018, more than double the $945 million spent in 2017, according to IDC. In 2021, the analyst firm expects that number to soar to $9.7 billion.
The banking industry will account for the majority of that global spending -- $754 million in 2018 -- but will by no means drive it all. The distribution and services sector, which includes the retail and professional services market, will spend $510 million on blockchain this year alone, according to IDC estimates. Experts also expect to see adoption take off in the healthcare and supply chain verticals.
Blockchain, a distributed ledger technology (DLT) that enables a network of companies to maintain immutable and secure records of transactional data, can benefit any organization that needs to collaborate with others on business transactions and workflows.
"Blockchain as a technology is going to touch every single industry out there ... [ultimately] all of the day-to-day work that we do in every single company," said Richard Brownstein, co-founder and CEO of AuraBlocks, a blockchain consulting firm and Oracle partner.
How blockchain and cloud fit together
As blockchain deployments increase, cloud-based infrastructure will underpin the majority of them, said David Treat, managing director at Accenture, a global consulting firm with headquarters in Dublin.
"There's a tight correlation between blockchain and cloud," he said. "It's rare or nonexistent in a corporate enterprise construct [to have] any sort of on-premises or similar solution."
Many organizations use a DLT implementation as an opportunity to further modernize their existing infrastructure, Treat said. Some Accenture clients have even moved away from legacy mainframe systems to pursue a blockchain implementation.
"[There's a] basic notion of shared access to data and needing to get multiple corporate enterprises interested in seeing value in a shared data construct," he said. "Cloud infrastructure is just a vastly better choice than relying upon any sort of traditional data infrastructure and direct pipes between participants."
Public cloud providers, such as AWS and Google, already operate some of the world's largest distributed computing environments, one of the key requirements for a blockchain network to work, said Martha Bennett, principal analyst at Forrester Research.
"When you do a deep dive on how Amazon actually runs its network, there are a lot of the same principles in use that are part of any kind of basic blockchain architecture," she said.
Other widely known benefits of cloud infrastructure, such as scalability and on-demand compute access, apply to blockchain deployments, as well, Bennett said.
"[For blockchain,] you need to set up nodes, you need to set up a network, and you need to deploy the software -- there is quite a lot around that," she said. "If you think of how long it can take in a corporate environment just to provision a new server, whereas, if you can go to a cloud environment and say, 'I want to spin up two nodes, or I want to deploy this software,' that makes life a lot easier."
These efficiency gains are one of the reasons Change Healthcare, a technology provider for healthcare companies, plans to migrate its Intelligent Healthcare Network (IHN) blockchain deployment, which is based on the Linux Foundation's Hyperledger open source framework, to public cloud infrastructure.
"IHN presently operates within our Change Healthcare data center, but our plans are to move this to the public cloud in the future as part of our Intelligent Healthcare Network roadmap," said Emily Vaughn, product development director for blockchain at the company, via email. "We believe that public cloud offers us the advantage of more efficiency and flexibility with infrastructure, allowing us to add or remove nodes as necessary to accommodate variances in demand and data throughput."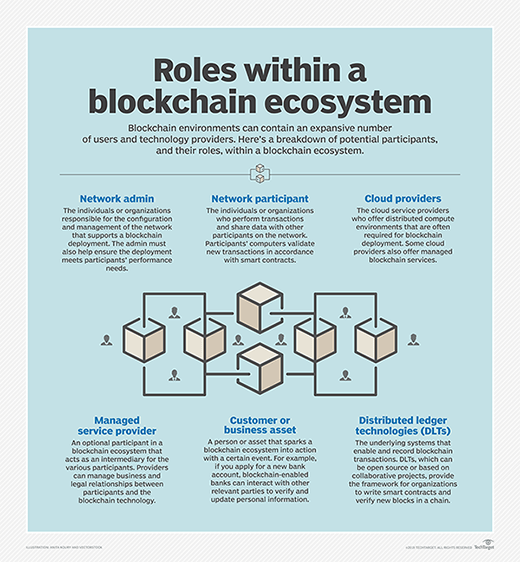 Involve IT teams early on
In addition to cloud providers, enterprises will lean on their internal IT teams to move their blockchain deployments into production.
Ultimately, an organization's IT management responsibilities will vary, depending on its role in the blockchain network and whether that network is public or private -- sometimes referred to as permissioned. A company that only transacts as a participant on a public network, for example, will have different management responsibilities than an organization that operates the nodes, or compute environments, in a private network to help achieve consensus or authenticate a transaction.
"Management is defined by the permissions that you set on the network and on the level of participation," said Marta Piekarska, director of ecosystems for Hyperledger.
At Change Healthcare, which does operate the nodes that support its IHN blockchain, the biggest technical challenges involved managing storage requirements and performance-tuning, Vaughn said.
"We used historical data from the Intelligent Healthcare Network to estimate throughput requirements," she said. "This involved determining the total number of blockchain nodes ... and determining the total number of transactions that would be applied to each block in the chain."
One of the biggest challenges is for all participating members of a blockchain network to agree on the standards, policies and governance constructs by which they will operate. Businesses must loop IT leaders into these discussions from the get-go, not only to meet technical requirements, but also to understand the legal implications of a blockchain deployment.
"Getting those agreements in place, I would argue, is equally as hard as getting the technology implementations right," Treat said.
Providers seek blockchain payouts
Over the past six months, blockchain platforms have advanced from proof-of-concept phases to production-ready systems, Treat said. And as blockchain investments grow, cloud providers will see plenty of opportunity to stake their claims.
"Companies are [saying], 'What are the things we need to do in order to turn this from a lab project into something that could actually be deployed?'" Bennett said. "That's when they go to the large providers."
Cloud providers will play a big role in making blockchain platforms more accessible -- and palatable -- to enterprises. And different ledger platforms could fit different needs and require different architectural approaches.
"Some use cases may have a bigger focus on scalability in terms of transactions [per] second, and not so much on confidentiality, while other use cases have a much greater requirement to preserve confidentiality," Bennett said.
I would say that anybody who is not out there with a big [blockchain] offering today, they haven't missed the train at all.

Martha Bennettanalyst, Forrester
Accenture, a premier member of the Hyperledger organization with business relationships among several public cloud companies, has helped deploy blockchain across a variety of cloud environments. Treat said he sees six DLT platforms commonly associated with enterprise use cases: Corda from R3, Quorum from J.P. Morgan, Digital Asset, Ripple, Hyperledger Fabric and Hyperledger Sawtooth -- the latter, he said, could gain more traction in the future. Cloud providers that were initially reluctant to enter the blockchain protocol development space now stand to benefit as they align with DLT platforms and sweeten the pot with enterprise-grade services.
For example, Microsoft's Coco Framework aims to wrap additional functionality, such as faster transaction speeds and governance tools, around the Quorum, Corda and Sawtooth platforms. It also offers Azure Blockchain Service, which enables an enterprise to deploy either a single-member network on Hyperledger Fabric or an Ethereum network for multiple accounts.
IBM, another technology giant that has the ears of enterprises, was early to realize the potential of a blockchain-based architecture, though it forged a circuitous journey to a product release, Bennett said. IBM's early work toward a proprietary blockchain platform stalled, then eventually materialized through open source collaboration into Hyperledger Fabric. The company then built its IBM Blockchain Platform around Hyperledger Composer and Fabric, added a governance model and has begun to target customers in a variety of different spaces, including supply chain.
Oracle and Hewlett Packard Enterprise (HPE) could find audiences among customers that want to run secure blockchain deployments in hybrid cloud environments. Oracle Blockchain Cloud Service supports Hyperledger Fabric, a decision determined by the whims of its blockchain pilot client, though it could add support for other DLTs, Bennett said. HPE plans to unveil its own blockchain service this year, Mission Critical DLT, based on a partnership with Corda.
Two of the industry's foremost cloud providers, Amazon and Google, have yet to publicly commit to managed blockchain service plans. AWS touts a number of success stories on its cloud through the use of DLTs, including Sawtooth, Corda and Samsung's Nexledger. Nevertheless, CEO Andy Jassy eschewed the thought of a native blockchain offering during November's re:Invent conference, saying the cloud provider was "watching it carefully." Meanwhile, Google has reportedly invested millions in blockchain, including DLT startup Ripple, but has yet to release a native blockchain service.
However, there's more going on with blockchain than is publicly revealed, Treat said. "I think that both organizations recognize that there's going to be value in where this is headed."
With many DLT platforms still at version 1, the cloud blockchain market likely will fluctuate as it matures, and many enterprises might simply choose to stay on their primary cloud platforms. Nevertheless, the allure of blockchain and cloud combined could nudge wary enterprises to migration. And as they've done with technologies such as machine learning and AI, big cloud providers won't miss the opportunity to cash in.
"I would say that anybody who is not out there with a big offering today, they haven't missed the train at all," Bennett said. "[Amazon and Google] are so far ahead in terms in some aspects of the required expertise, it wouldn't take them much to do whatever they want to do."
Dig Deeper on Cloud deployment and architecture