Bacho Foto - stock.adobe.com
Microsoft wins $10 billion JEDI contract over AWS
In a surprise move, the DOD has awarded Microsoft, not AWS, its controversial JEDI cloud computing contract. The deal has a price tag of up to $10 billion over 10 years.
Microsoft has been awarded the U.S. Department of Defense's controversial JEDI contract over AWS in a surprise development that could be remembered as a watershed moment in the battle for market share among hyperscale cloud computing providers.
AWS had widely been expected to win the Joint Enterprise Defense Infrastructure contract, which was first announced in September 2017 and vigorously pursued by IBM, Oracle, Google and Microsoft. The DoD narrowed the field of candidates to AWS and Microsoft in April, and in July a judge tossed out a federal lawsuit brought by Oracle in protest of the process.
AWS had a perceived leg up on competitors for the JEDI contract, thanks not only to the breadth and depth of its cloud platform, but due to precedent. Several years ago, AWS landed a $600 million contract with the CIA centered on further development of the intelligence agency's big data analytics capabilities.
Still, in May 2018, Microsoft said it had won a contract worth hundreds of millions of dollars that would see a panoply of U.S. intelligence agencies use its Azure Government service.
The DoD's JEDI proposal, as laid out in a November 2017 memo, calls for a 10-year contract with a single provider to create a "highly available, exponentially elastic, secure, resilient cloud computing environment that seamlessly extends from the homefront to the tactical edge."
The JEDI contract is worth up to $10 billion over the life of the agreement, but the base contract period is for just two years with $1 million guaranteed, according to the DoD. About $210 million is expected to be spent during the initial two years, but the remainder of the contract is subject to rigorous ongoing reviews, the DoD said.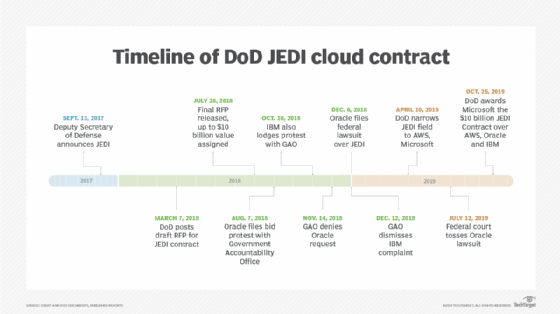 AWS could not immediately be reached for comment, but in published reports, a company spokesperson expressed surprise at the result.
"AWS is the clear leader in cloud computing, and a detailed assessment purely on the comparative offerings clearly lead to a different conclusion," the company said.
The specter of presidential politics has loomed over the JEDI contract saga, with President Donald Trump -- a harsh critic of Amazon CEO Jeff Bezos -- saying in July that his administration planned to scrutinize Amazon's JEDI bid in the wake of complaints about the award process from AWS competitors.
It wasn't immediately clear whether Amazon can or will pursue additional recourse following the JEDI contract award to Microsoft.
All offerors were treated fairly and evaluated consistently with the solicitation's stated evaluation criteria.

U.S. Department of Defense statement
"All offerors were treated fairly and evaluated consistently with the solicitation's stated evaluation criteria," the DOD said in a statement. "Prior to the award, the department conferred with the DOD Inspector General, which informed the decision to proceed."
While the Pentagon plans to eventually move 80% of its internal systems to the platform created by JEDI, it maintains many other cloud services. It also "continues to assess and pursue various cloud contracting opportunities," according to a statement.
The cloud infrastructure market is worth about $100 billion at present, according to new numbers from Synergy Research. AWS has about 33.5% share of that market, with Microsoft at about 16.5%, Synergy reported.
AWS may still have a healthy lead over Microsoft, but the JEDI award gives the latter not only bragging rights but also a high-profile testimony to Azure's readiness for the world's most critical and sensitive workloads, which could prove quite valuable in negotiating other large-scale deals.
More details of the DoD's decision-making process could be learned in coming days. In recent months, there had been some speculation the DoD would add an additional vendor to the JEDI contract after an initial award, both to hedge its strategic bets and mollify critics.
Ed Scannell contributed to this report.
Dig Deeper on Cloud provider platforms and tools