Anterovium - Fotolia
DoD's JEDI cloud contract favors AWS, with Microsoft on deck
AWS is expected to win the DoD's $10 billion JEDI cloud contract. The single-cloud vendor deal has brought criticism and some believe Microsoft will eventually play an important role, too.
With the $10 billion Joint Enterprise Defense Infrastructure (JEDI) cloud deal with AWS all but sewn up, the Department of Defense has rolled the dice that a single cloud provider can implement, secure and maintain the systems that U.S. military leaders rely on to make critical decisions.
While AWS is poised to be the winner of the initial JEDI cloud contract bid, it's possible that Microsoft, the only other vendor still in contention for the deal, could be brought in later, according to one IT advisor who works with federal agencies and is familiar with the deal. The advisor said this is likely to be accomplished through a separate contract, and will be necessary to support the sizable number of Azure-based workloads that must be integrated to play nicely with AWS' products and services.
"Everyone that is part of this deal knows you need two or three cloud providers -- that's just the way the world has gone," the IT advisor said. "But because this has been delayed and taken so much time to conclude, the DoD needed to get the ball rolling with one of them [AWS] and then bring in the other [Microsoft] after a year or so for additional support," he said.
One of the reasons Amazon decided to build its second headquarters in Crystal City, Va. is the close proximity to federal agencies such as the DoD.
"This huge investment they are making [in Crystal City] gives them a leg up against some other competitors," the source said. "Some of that facility will be used to support the JEDI deal, which is the logical place to do so. [AWS] doesn't have enough space down here [in Washington, D.C.] to support that deal."
Adding a second vendor to the contract would not be that unusual for a large federal agency such as the DoD; it is something federal agencies do as a matter of course, according to the source, who requested anonymity.
"It won't be a big deal to bring Microsoft in to support their workloads," the source said. "AWS will proceed by supporting both environments, but as the implementation moves along, they will bring in Microsoft without too much publicity with the justification that [the DoD] has a large embedded base of applications to deal with," he said.
The DoD's decision to go with a single provider was met with strong resistance from AWS competitors including IBM, Oracle and Google, claiming the decision would only serve to hamper the DoD's ability to deliver quality cloud-based services.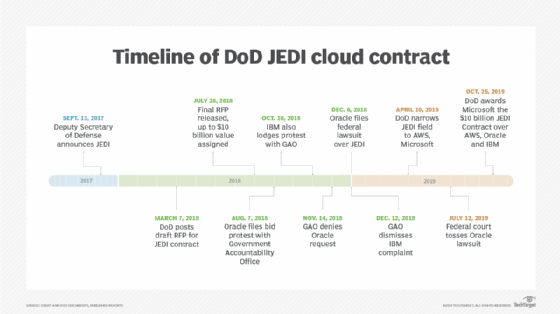 U.S. President Donald Trump said earlier this month that his administration would look closely at Amazon's bid on the JEDI cloud contract following complaints from tech companies – a statement that was met with concern from four Republican members of U.S. Congress, including House Armed Services Committee ranking member Mac Thornberry, who have reportedly urged him not to stall the deal.
The trade group IT Alliance for Public Sector had also sent a letter to the House and Senate Armed Services committees to argue that the "deployment of a single cloud conflicts with established best practices and industry trends in the commercial marketplace, as well as current law and regulations." The letter went on to state the decision also runs counter to the broader federal cloud computing strategy.
DoD may find devil in JEDI cloud contract details
One expert on enterprise software contracts expressed skepticism about the value of a 10-year deal, as the DoD seeks.
"When I write about the importance of strategic partnerships and advise clients on how to create them, I talk about the importance of the 'soft contract' that makes the partnership work – the understanding that the supplier will do its utmost to help the customer be successful, and the customer will in return continue to give the supplier more business," said Duncan Jones, an analyst for sourcing and vendor management with Forrester Research.
"Public sector clients often point out that the politicians won't allow them to form such partnerships. That prohibition -- that lack of understanding of how a sourcing strategy should work -- is at the heart of why so many public sector projects go wrong," Jones added.
There's head-scratching among D.C. insiders who work with federal agencies about the insistence on a single cloud service provider for the JEDI cloud contract, given the drama and delays it has created.
"The net effect of this is, we're trying to build efficiencies into the DoD, but the longer this has protracted, the mission needs and the ability to move to cloud-native environments is being hindered," said Dan Tucker, vice president of digital platforms at Booz Allen Hamilton, a management consulting firm based in McLean, Va. that works with federal agencies and private sector clients.
A majority of clients in both the public and private sector look for ways to make cloud-native applications more portable across infrastructure rather than to settle on one, Tucker said. One cloud service provider might make bills easier to understand and spending easier to forecast, but would come with many limitations that could outweigh those advantages.
"Why would you want to be locked into one CSP for a decade?" Tucker said. "When you're dealing with all the mission and capability requirements of the U.S. Department of Defense, I would want to give myself some options."
Since the JEDI cloud contract has expanded to include PaaS as well as IaaS compute and storage infrastructure, there are far-reaching implications for almost all federal agency program directors and system integrators as they choose which software vendors to work with. While the DoD remains committed to a primary cloud service provider for the JEDI deal, all other businesses in the government's orbit are ensuring their bases are covered.
In 10 years every federal agency is going to have a very large investment in AWS and a significant if not equally large investment into Azure...we need tools and processes that work across them.

Dave WilliamsCloud architect, Light Technologies
"Our customers are multi-vendor," said Dave Williams, cloud architect at Light Technologies, a managed service provider that focuses on geospatial applications and works with public and private sector clients in Washington, D.C. "We know in 10 years every federal agency is going to have a very large investment in AWS and a significant if not equally large investment in Azure, along with some other things -- we need tools and processes that work across them."
The importance of being cloud-agnostic influences the tools businesses such as Light choose to work with; Light recently chose compliance-as-code software maker Fugue over native tools such as AWS CloudFormation templates for that reason, Williams said. Many Forrester clients pick a sole cloud provider without really acknowledging the depth of their decision, according to Forrester's Jones.
"They think they'll be able to renegotiate their contract in three years' time. [They] haven't foreseen the likelihood that they'll be totally locked in, without any negotiation leverage," Jones said, cautioning that he was speaking generally and not to the specific details of the JEDI cloud contract. "The soft contract concept doesn't apply unless they minimize the friction to move to another cloud provider, which negates the point of sole sourcing in the place."
CIOs need to decide whether they are willing to trust a single-source cloud provider to treat them fairly, even though they're essentially locked in, as well as to keep them at the leading edge of the market technologically, Jones said. Those who aren't comfortable with that should focus on multi-cloud deployments and workload portability measures, he added.
JEDI calls for portability, IT best practices
Overall, however, the JEDI cloud contract does include the requirements and best practices most Fortune 500 companies can learn from, said R "Ray" Wang, founder and CEO of Constellation Research, who has assisted hundreds of clients with technology contract negotiations.
The Department of Defense has posted a series of public documents on the JEDI contract, including a "statement of objectives" that serves as a summary of the 100-page draft solicitation.
A standout passage in the summary that speaks to the concerns raised by Jones calls for the winning vendor to provide the DoD with a portability .
It doesn't eliminate the operational inertia that will inevitably take hold if AWS wins the bid and serves as sole contractor for the few years. But it puts the onus on AWS to show how the DoD can make an exit, as it sees fit.
"The portability must specifically identify, in the form of user instructions, the complete set of processes and procedures that are necessary to extract all online, nearline, and offline data, including, but not limited to, databases, object and file storage, system configurations, and network configurations such that any DoD customer can use these instructions to migrate from JEDI Cloud to another environment," the summary states.
It also calls for the vendor to demonstrate the migration of a government-provided application and data set from JEDI to another cloud service.
Amazon CTO Werner Vogels addressed the notion of portability and multi-cloud deployments during an earlier interview in terms that suggested AWS' readiness to meet this part of the JEDI contract's demand.
"The other thing that we're working with most of our enterprise customers is, what is an exit strategy?" Vogels said in that interview. "What do I need to do, if one moment I decide that I would like to move over to another provider? That for any large enterprise is just good due diligence."
According to a Microsoft spokesperson, "We believe our over 40-year partnership with the DoD, in conjunction with our unique and differentiated enterprise cloud capabilities from the homefront to the tactical edge, best supports the DoD in advancing its mission and accelerating the speed in which they achieve the return on their cloud investments. We are consistently collaborating with the DoD to listen to and further our understanding of their mission requirements. We look forward to competing for the JEDI cloud contract and continuing to provide the DoD with our latest commercial innovations."
Amazon did not provide comments by press time.