DrHitch - Fotolia
NetApp HCI aimed at hybrid clouds
Late to HCI, NetApp tries to play catch up against Dell EMC, VMware and Nutanix by pushing its SolidFire flash-based product into hybrid cloud deployments.
NetApp wants to redefine HCI, at least as it applies to the NetApp HCI product.
Continue Reading This Article
Enjoy this article as well as all of our content, including E-Guides, news, tips and more.
"When people talk about HCI, they refer to hyper-converged infrastructure," said Brad Anderson, NetApp's general manager of cloud infrastructure. "It's commodity hardware, software-defined, scale up, virtualized data center, simplified deployment and management. We do that. But when we talk about HCI, I want you to hear hybrid cloud infrastructure. You consume it like a cloud with the same services as a cloud and seamless integration to the largest public clouds. We deliver a hybrid, multi-cloud experience."
Other executives at NetApp Insight last week also referred to HCI as hybrid cloud infrastructure. They painted NetApp HCI as the private cloud pillar in NetApp's cloud-connected flash strategy. It is a private cloud building block with public cloud integration. NetApp HCI uses the SolidFire all-flash platform and Element operating system along with an unidentified partner's compute nodes. Integrated networking is on the roadmap.
NetApp HCI leading from behind?
NetApp's positioning of HCI isn't really much different than other competitors, such as Nutanix and VMware. They all see HCI as a way to deploy volumes, clusters and applications from a single pane of glass in an on-premises data center. The goal is to make it a similar experience as using public cloud storage.
But VMware -- through partners' infrastructure such as Dell EMC VxRail -- and Nutanix have been in the market for years. Nutanix is a billion-dollar-a-year business based entirely on HCI, while NetApp is barely in the market for a year and has low single-digit market share.
NetApp hopes to gain an edge through its Data Fabric architecture that ties together cloud storage features the vendor has built up for several years.
We've had the advantage of listening, observing and learning like we did in flash, where our patient approach led us to No. 1 in all-flash arrays.

Brad Andersongeneral manager of cloud infrastructure, NetApp
"We're late," NetApp principal technologist Andy Grimes said of HCI. "But we're good at being late."
Grimes was referring mainly to NetApp's flash come-from-behind story. NetApp was the last of the major storage vendors to embrace all-flash arrays, but IDC listed NetApp as the No. 1 in all-flash system market share for the second quarter of 2018.
"We've had the advantage of listening, observing and learning," Anderson added about NetApp's HCI strategy, "like we did in flash, where our patient approach led us to No. 1 in all-flash arrays."
Flash also plays a big role in NetApp HCI because it is built on the technology NetApp acquired from all-flash pioneer SolidFire. SolidFire's Element OS enables running multiple workloads with guaranteed quality of service across nodes. NetApp HCI does not integrate servers and storage as tightly as other HCI products. NetApp includes separate storage and compute nodes. Customers start with a minimum of four compute and two storage nodes, and can scale by adding single nodes of either storage or compute.
"We call it getting rid of the HCI tax," said Brett Roscoe, NetApp VP of product management, pointing to a common complaint about early HCI products requiring users to scale compute and storage together.
NetApp CEO George Kurian claimed the vendor has "hundreds of customers with thousands of nodes in enterprise and service provider environments" for NetApp HCI.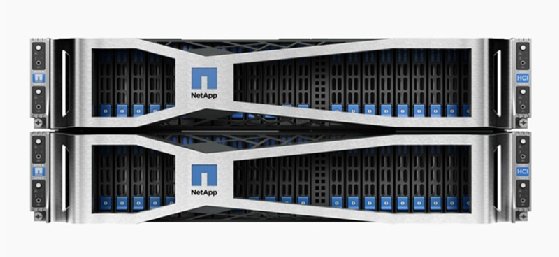 Containers, networking HCI roadmap
NetApp HCI was brand new and a major focus a year ago at NetApp Insight 2017 but didn't feature prominently in product launches at Insight 2018. NetApp added a verified architecture for Red Hat OpenShift on NetApp HCI, allowing management of containers for DevOps. While that hardly stood out in a bevy of cloud launches, it is a sign of one area where NetApp HCI is headed.
Roscoe said he sees NetApp HCI becoming a major platform for containers. "Initial HCI deployments are using virtualization, but interest in containers is extremely high," he said. "We live in a world where they want to run VMs and containers, and orchestrate them together."
Roscoe said the NetApp HCI roadmap includes integration of an Ethernet switch by the end of 2018, and support for more hypervisors than VMware's. NetApp is also launching Nvidia GPU options to support VDI and will be adding additional Nvidia options in the future to support additional workloads like artificial intelligenceartificial intelligence.
HCI customers in cloud, on edge
Benjamin Molloy, division lead at Consultel Cloud, said the Australian-based service provider decided to deploy NetApp HCI for its entire IT infrastructure based largely on the NetApp roadmap. Consultel Cloud uses NetApp HCI in Equinix data centers in Sydney, Melbourne, London and New York. It also offers HCI as a service based on NetApp's technology.
Molloy said when speaking to NetApp about its HCI plans, "that roadmap stood out for us. We had two things on our wish list -- multi-hypervisor and GPU support, and both of those are on the [roadmap]. We already have customers that require GPU and we are starting to get a few requests for [Microsoft] Hyper-V."
Molloy said he evaluated NetApp and Nutanix for hyper-convergence. He said he felt NetApp HCI could be deployed faster, both initially and when upgrading. Consultel Cloud was also familiar with the underlying technology because it used SolidFire arrays even before NetApp acquired SolidFire in 2015.
"There are features we don't have yet but are coming in six to 12 months," Molloy said. "And we like the deployment times. We can have NetApp HCI implemented in less than a month, from contract signing to deployment."
Part of NetApp's HCI strategy is to use it to integrate data from edge devices. That's how Italian motorcycle company Ducati uses NetApp HCI. Ducati, which makes racing bikes and road bikes, is running a pilot with HCI at race tracks to gather and process telemetry data. NetApp HCI travels with Ducati across the MotoGP championship series that includes 19 races in 15 countries on five continents. Ducati CTO Konstantin Kostenarov said each Ducati racing bike has more than 60 sensors and generates 20 GB of data per race.
Kostenarov said Ducati downloads racing data from NetApp HCI systems at the tracks to its Bologna, Italy, data center. The data taken from sensors on the racing bikes during test runs helps Ducati make adjustments before race day.
Kostenarov said Ducati picked NetApp HCI because of its quality of service features, the ability to scale compute and storage independently and because it is easy to deploy and manage.
"With HCI we can collect data during the race and connect our racing motorcycles on the network from the track," he said. "This increases our competitiveness and helps speed up the performance of our motorcycles."
Ducati also uses NetApp all-flash FAS arrays at its main data center and secondary sites, but Kostenarov said HCI gives it "flexibility, the ability to optimize space, and high performance around the world."