Sergey Nivens - Fotolia
NetApp flash offerings push into cloud, edge and IoT
At the NetApp Insight user show, the vendor advocates for flash to replace disk for backup, cloud and object storage. NetApp HCI expands, and StorageGrid gets flash.
LAS VEGAS -- New NetApp flash storage is moving into Docker environments and object storage, technologies that typically have relied on spinning disk.
Flash products introduced Tuesday at the NetApp Insight conference include a Red Hat OpenShift on NetApp HCI system. NetApp HCI is based on SolidFire all-flash arrays running the ElementOS operating system. The validated reference hardware enables Red Hat development shops to provision persistent storage containers as a private cloud.
NetApp also added a flash-enabled SG6060 to its StorageGrid object storage appliances. Projected use cases for the new appliance include AI training data created by IoT devices, as well as the backup of cold data sets that may need to be quickly reactivated.
NetApp's flash hardware moves accompanied a raft of cloud software releases. They included NetApp Cloud Volumes OnTap file storage with data protection and tiering to the public cloud. The vendor also formally introduced NetApp Kubernetes as a service (NKS), based on technology NetApp picked up from StackPointCloud last month. NKS automates the provisioning of federated container clusters and syncs the persistent storage in the public cloud.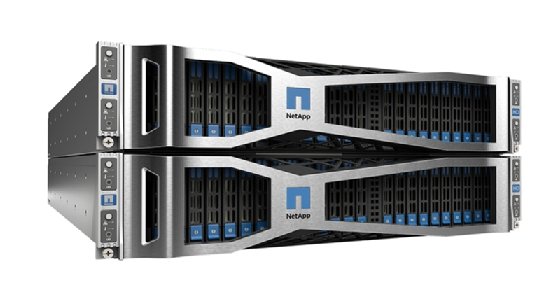 NetApp: SolidFire is gaining on hyper-converged leaders
The NetApp flash rollouts come as the vendor looks to move its flagship OnTap storage systems closer to the ElementOS-based SolidFire. OnTap storage includes all Flash fabric-attached storage, or FAS, and FAS hybrid systems. NetApp also sells the E-Series SAN arrays that run on the SANtricity operating software.
NetApp HCI is based on SolidFire all-flash storage. Customers can buy NetApp SolidFire arrays as stand-alone storage or coupled with server nodes running VMware virtualization in the HCI model. The minimum HCI configuration is four compute nodes and two storage nodes. Customers increase capacity by adding single SolidFire storage or compute nodes.
NetApp acquired SolidFire in 2015, releasing the HCI version after its first full Element release last year. Acquiring SolidFire helped jumpstart what had been sluggish HCI product development. The ElementOS quality of service targets performance issues that often plague traditional hyper-converged installations.
Although it started late, NetApp HCI is making inroads against market leaders Nutanix and Dell EMC, said Brad Anderson, a NetApp senior vice president and GM of cloud infrastructure.
"We've had some pretty good success, interestingly and encouragingly, with customers that tried to use [competing] HCI products more holistically. They then found that those products encountered headwinds with scale [and] performance of guaranteed quality of service. The guaranteed performance is where ElementOS really shines," Anderson said.
NetApp said it will certify testing and market validated blueprints to enterprises building large OpenShift container farms.
NetApp CEO George Kurian told SearchStorage that a reference design for flash-based HCI resonates with customers. He said most of new SolidFire customers are choosing it as NetApp HCI deployments.
"We're starting to see the volume of new customers take on the hyper-converged infrastructure platforms approach, which we're excited about. There are, of course, large service providers that will continue to buy SolidFire as stand-alone storage arrays, and we're entirely comfortable with that," Kurian said.
NetApp StorageGrid SG6060
The SG6060 object storage combines two StorageGrid devices: the 60-drive 4U StorageGrid E5700 disk array, fronted by an attached E2800 controller running a dedicated tier of NetApp flash.
Customers can move inactive data to object storage using NetApp FabricPool tiering, said Randy Kerns, an analyst at Evaluator Group, an IT analyst firm based in Boulder, Colo.
"NetApp is trying to diversify its usage model for StorageGrid. Most object storage traditionally is a slow repository for your data. NetApp wants it to be able to accept data at a much quicker pace for AI and analytics applications," Kerns said.
NetApp Data Availability Services (NDAS) is a new service rolled out in OnTap 9.5, with an initial focus on backup and data protection for object-based copies. NDAS uses SnapMirror replication to create an index whenever NetApp storage moves data to the cloud. Customers using NDAS can keep a primary copy on local storage and work on the cloud-based backup copy in its native object format.