WavebreakMediaMicro - Fotolia
Microsoft JEDI contract leaves AWS to weigh its options
Losing the $10 billion JEDI cloud computing contract to Microsoft forces AWS to consider its next steps in trying to reverse the government's surprise decision.
Days after Microsoft won the $10 billion JEDI contract over AWS, industry observers are still unpacking its ramifications and the forces that led to the Department of Defense's surprise decision.
"We're surprised about this conclusion," an AWS spokesperson said in a statement. "AWS is the clear leader in cloud computing, and a detailed assessment purely on the comparative offerings clearly led to a different conclusion." The spokesperson declined to comment on the company's next steps.
One potential avenue for AWS is an appeal to the Government Accountability Office.
"Any party who participated in the protest, including the protester, any intervenor, and the contracting agency, may request that GAO reconsider its decision in the protest," according to the relevant statute. "Request for reconsideration does not result in the withholding of award or the suspension of contract performance."
The GAO has to receive the request for reconsideration "within 10 days after the basis of reconsideration is known or should have been known, whichever is earlier."
AWS would also have to provide new information against the JEDI contract; merely repeating past views or expressing disagreement with the decision is invalid, according to the statute.
Other avenues for AWS include asking the DOD for an "enhanced debriefing," a meeting in which defense officials would provide a rationale for their decision. AWS could also file a federal lawsuit appealing the award.
Microsoft's victory preceded by key events
What was critical to Microsoft winning the JEDI contract was its inclusion in the $7.6 billion Defense Enterprise Office Solutions (DEOS) Blanket Purchase Agreement (BPA) contract, which the government awarded to General Dynamics and its partner companies earlier this year.
Among the contractors brought in for that deal were Microsoft, Dell and VMware. The BPA is built on Microsoft's Office 365 platform, which indicates that Microsoft's offering had met the highest of government security certifications.
Once it attained the necessary certifications, Microsoft became significantly more competitive in going after the JEDI contract against AWS, which had already met such certifications through the work it did for the Central Intelligence Agency years earlier, according to sources.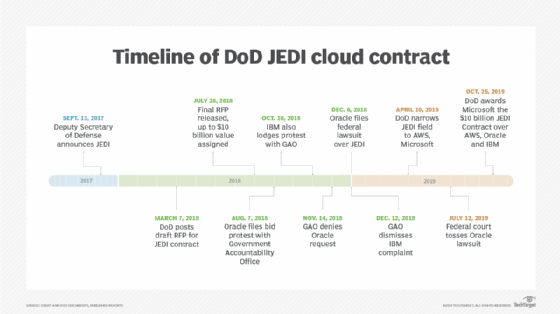 "The big differentiator between AWS and Microsoft on this bid was the security certifications AWS already had in its back pocket," said one DOD consultant who is familiar with the matter and requested anonymity in order to speak freely. "When Microsoft was granted the necessary certifications, it took that argument off the table."
The Defense Information Systems Agency and the General Services Administration (GSA) worked together to develop the contract leveraging the GSA's IT Schedule 70 to access commercial cloud services.
The purpose of IT Schedule 70, which delivers federal and state agencies the necessary technology products and services, is to significantly shorten procurement cycles compared to purchasing offerings on the open market, ensure compliance and obtain the best value for those agencies.
"A key aspect here is the partnership with the GSA, because that is what opened up Schedule 70," the consultant said. "What large government agencies like the Labor Department and others will do now is buy products that are on Schedule 70, which could be a nice business for Microsoft," he said.
Besides Microsoft's BPA deal and its security certifications, the company may have been able to cinch the deal with an aggressive bid that came in lower than offers made by AWS, IBM and Oracle.
"Once [Microsoft] had the certifications, the Feds saw them as equal (with AWS) and so it became just an issue of price," the consultant said.
The DOD may have given Azure the nod out of a belief it has stronger AI and machine learning capabilities than AWS, said Chris Smith, vice president of cloud architecture at Unitas Global, a hybrid cloud services provider in Los Angeles that works with both platforms.
"Microsoft invests so much money in AI," Smith said. Another factor could have been Microsoft Teams, which the DOD may have seen as an attractive way to consolidate collaboration tools, he added.
While market watchers have focused on the contract's impact on competition between AWS and Microsoft, that's less relevant to taxpayers and members of the armed services. AWS would have been preferable, but Microsoft "will do a fine job," said Ryan Marsh, a DevOps and serverless training expert at TheStack.io in Houston.
This is proof that long-term, the real competition will be between AWS and Azure.

Ryan MarshDevOps coach, TheStack.io
"This is proof that long-term, the real competition will be between AWS and Azure," he said. "Google runs [Google Cloud Platform] like a hobby."
Azure DevOps is a fine product that will hopefully get adopted by DoD IT teams, added Marsh, whose consulting business is primarily focused on AWS-based projects.
Political overtones linger over JEDI award
U.S. President Donald Trump, a harsh critic of Amazon CEO Jeff Bezos, said in July his administration would closely scrutinize the deal. An upcoming book about former Secretary of Defense James Mattis, written by Guy M. Snodgrass, claims Trump told Mattis to "screw Amazon" regarding JEDI.
However, the DOD treated all bidders fairly and consulted with its inspector general before awarding the JEDI contract to Microsoft, the agency said.
The DoD contractor familiar with the deal believes that was the case. "I don't think politics entered into this much at all," he said.
Acting DOD Inspector General Glenn Fine, an appointee of former President Barack Obama, has served in that role since January 2016. Fine, like other IGs, is supposed to be an independent arbiter not subject to political influence.
A spokeswoman for Fine's office declined to comment on whether there was political influence or intervention by Trump but said a review of the JEDI contract isn't yet complete.
"The DoD has consulted the DoD OIG, and we have shared our views on the JEDI acquisition and provided information on the status of our review," Fine's office said in a statement. "To date, we have not found evidence that we believe would prevent the DoD from making a decision about the award of the contract. We hope to have a completed report of our findings by the end of November, which we intend to release publicly, to the maximum extent possible."
Even so, politics has cast a pall over the JEDI process, said Corey Quinn, cloud economist at the Duckbill Group, which helps customers manage their AWS spending.
"The story right now, as with everything involving the president, is about undue influence and abuse of power," said Quinn, who is also a frequent commenter on AWS issues through social media, podcasts and newsletters. "Without that shadow looming over the contract award, the narrative would instead be about how Azure has really come into its own and can be taken incredibly seriously by enterprises. This is a great thing for the industry at large; nobody wants an Amazonian monoculture."
Dig Deeper on Cloud provider platforms and tools