WavebreakMediaMicro - Fotolia
Forbes' Google Cloud migration rooted in trust, cost savings
Forbes has moved its publishing operations to Google Cloud for continued growth, better audience engagement and streamlined operations. Forbes Chief Digital Officer Salah Zalatimo explains why.
Forbes says its online audience grew from 15 million users per month in 2012 to 120 million in 2018, a growth spike that ultimately prompted a large-scale move off on-premises systems and into Google Cloud.
The Google Cloud migration now supports all three aspects of Forbes' business: content, sales and its publishing infrastructure, according to chief digital officer Salah Zalatimo.
"[In 2020], we're going to be continuing to mature our business model and diversify our revenue," Zalatimo said. "Google Cloud is about giving us flexibility. We're going to be able to establish new products and test new features really quickly."
Forbes used to run its publishing operations on an on-premises, WordPress-based system that was heavily customized, with a front end clunked up by an accumulation of legacy code.
The number of actual people those audience figures represent is likely lower, as Google Analytics defines a user as a browser endpoint. Thus, if an individual read Forbes content both on a phone and a laptop, the user would be counted twice.
Still, the scale involved led to Forbes' 2018 decision to build a new, custom publishing platform. At that point, the company determined it wanted to make a wholesale push into the cloud centered around one primary provider.
Google won Forbes' business for several reasons, including pricing, incentives to help its Google cloud migration and a lower-pressure approach to sales, according to Zalatimo. "We didn't have to make any hard commitments."
While Forbes has a relationship with Microsoft as an Office 365 shop, it quickly ruled out Azure. "We talked to them, but the pricing was just too high," he said.
Forbes also met with sales teams at AWS, where it initially hosted the new publishing platform, but ultimately decided that Google provided the most ease of use and the best level of automation for its needs. Forbes moved the publishing platform as part of its Google cloud migration during the first half of 2019.
Forbes has moved most of its digital infrastructure into containers and orchestrates them with Google Kubernetes Engine. It also uses the Istio service mesh to wrangle microservices. Google Cloud storage underpins the system and Google Pub/Sub supports serverless operations.
Forbes estimates that the move to GCP has saved 50 engineer-hours per week thanks to efficiencies and automation. Regression testing and new feature deployment time has dropped by 58%, according to the company.
In addition, Forbes is using Google's AI and machine learning features to train models that suggest headlines, track trending topics and improve reader engagement.
Google Cloud hones enterprise chops
Former Oracle executive Thomas Kurian came aboard as Google Cloud CEO in November 2018. Since then, Kurian has moved to build out Google's enterprise cloud sales and support organizations -- areas where it had lagged behind competitors. Forbes' experience on this front has been positive, Zalatimo said.
They are still maturing as an enterprise provider, and we knew that going in.

Salah ZalatimoChief digital officer, Forbes
"They are still maturing as an enterprise provider, and we knew that going in," he said. "But they knew that going in, too."
Forbes did work with a services partner to help with the Google Cloud migration, but Google's account representatives were "extremely involved," he added. "We always had access, even if it was less traditional." As one example, Forbes' teams might find themselves having to call a salesperson in order to escalate a technical issue, Zalatimo said.
Forbes is using a wide array of Google Cloud offerings, including its audience analytics platform, BigQuery data warehouse, Hangout meeting software and authentication service, all of which are well-established.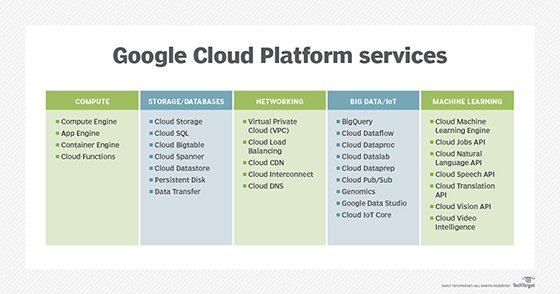 But of all the cloud providers with which Forbes works, Google stands out as keen on engaging customers very early on in the new product development process, he added. "A lot of [vendors] talk about it, and say they want to do it, but I don't think a lot of companies actually do."
Weighing Google's influence
Walmart and other large retailers have shunned doing business with AWS, given how closely they compete with its parent company in e-commerce. Google's kingmaker positions in general web search as well as the hugely influential Google News service might make a media company such as Forbes similarly think twice about making heavy investments in its technology.
Forbes did factor this into its decision, according to Zalatimo. "Our options [were] either to lean in or lean away," he said. "At the end of the day, they do carry the leverage. As an independent publisher, we really don't. So, if you can't beat them, join them."
The company is taking part in the Google News Initiative, where Google works with publishers on new product development and other collaborative efforts.
Forbes benefits from this relationship with Google -- but not to the extent it gets any special insights into the Google News algorithm, which can heavily affect a publisher's traffic when changes are made. "They are like Fort Knox about this," he said.