Customer data platform tools push personalization, privacy
Evolving CDPs help companies unify the flood of consumer data collected from disparate sources, resulting in better customer insights and compliance with privacy regulations.
In the race to differentiate their brand and products from competitors, companies are increasingly adopting customer data platform tools to target and provide customers with unique and satisfying experiences. CDPs unify customer information from disparate sources so the data can be accessed, viewed and applied companywide by multiple systems. The result is a 360-degree view of customers that helps predict buying habits, tailor messages to customers on multiple channels, improve customer service and encourage brand loyalty.
Artificial intelligence, advanced analytics, mobile tracking and new privacy mandates have been feeding the insatiable need for companies to improve customer experiences. "The proliferation of devices and data is one of the primary drivers for the need and adoption of CDPs," said Michael Harrison, managing partner at e-commerce management consultancy Winterberry Group. "The vast amounts of data produced from the connected devices make it impossible to manage customer data in traditional database marketing methodologies, creating demand for a modern way to manage data."
CDPs are often mistakenly considered to be all-encompassing platforms that can do everything from data collection to machine learning to journey building. "However, the reality is that a CDP is not a cure-all -- nor should it be," said Calvin French-Owen, co-founder and CTO at CDP tools provider Segment, which was recently acquired by Twilio. "Like any technology, it should focus on what it does best, providing a unified, complete customer record that is consistent and can be sent to every channel and business application."
Identifying new frontiers
The market for CDPs is growing beyond its original core industries of retail and media into travel, hospitality, telecommunications, financial services, education, healthcare and B2B, according to consultant David Raab, principal of Raab Associates and founder and president of the CDP Institute. Oracle, Salesforce and Adobe last year announced that they were building CDPs, and Raab pointed to the recent purchase of Segment by Twilio as the first billion-dollar-plus CDP acquisition.
Companies are increasingly looking to use the data in these platforms for predictive analytics applications. The challenge is how to connect these platforms into a company's existing tool of choice, such as CRM, marketing software or call center agent desktops.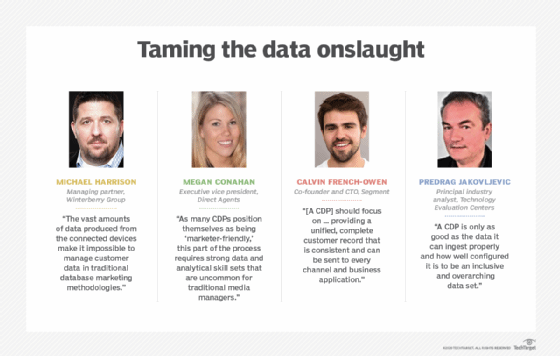 "The more a software provider can help leverage the data from a CDP and provide those predictive, and more importantly, prescriptive insights at the point of interaction, the more competitive advantage they will have," said Predrag Jakovljevic, principal industry analyst at software advisory firm Technology Evaluation Centers. "A CDP is only as good as the data it can ingest properly and how well configured it is to be an inclusive and overarching data set." The data models also need to be flexible and incorporate data from outside the business, such as social media, the web and other syndicated third-party sources.
Marketers often struggle with the promise of being able to drive predictive insights for better sales and marketing, and the challenges to actually make these capabilities work in practice, noted Megan Conahan, executive vice president of digital marketing agency Direct Agents. They're often left to navigate databases and create their own predictive models.
"As many CDPs position themselves as being 'marketer-friendly,'" Conahan added, "this part of the process requires strong data and analytical skill sets that are uncommon for traditional media managers." She expects CDPs to become more of a one-stop shop with built-in data storage and predictive modeling capabilities.
Getting personal with CDPs
As more companies take advantage of the data stored on a CDP, they can tailor content and advertising to a particular audience. "But this also means that more users are becoming aware of the marketing that is being shown to them, making customers more hostile to the usual tactics that come along with customer data," said SEO consultant Daniel Foley. Although customer data platform tools can make data collection easier, companies will not be able to take full advantage of that information without customer acceptance.
"The only 100% accurate way to connect with customers is by surveying them," said Garin Hobbs, director of deal strategy at marketing platform company Iterable. "True connection, loyalty and marketing success are ensured by understanding all of the data for every individual, across their entire journey with you, and anticipating their nuanced needs based on your findings."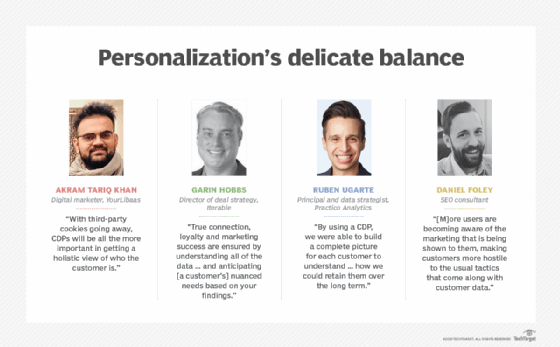 Online clothing retailer YourLibaas has been using customer data platform tools extensively to better understand customer preferences, personalize emails and improve recommendations, according to the company's digital marketer Akram Tariq Khan. He said a CDP is also helping navigate Google's plans to phase out third-party cookies from Chrome by 2022. "With third-party cookies going away," Khan said, "CDPs will be all the more important in getting a holistic view of who the customer is."
YourLibaas is also using its CDP to improve omnichannel marketing and attribution by pinpointing the role each channel plays in converting a customer. "Attribution," Khan added, "is key to distributing our marketing budgets."
One mobile consumer learning company used customer data platform tools to track its customer journeys, according to Ruben Ugarte, principal and data strategist at consultancy Practico Analytics. "By using a CDP," he explained, "we were able to build a complete picture for each customer to understand how they found our product, what features they liked, how we should communicate with them and how we could retain them over the long term."
Retail and entertainment complex American Dream has been working with Apple's Enterprise Design Lab and data science consultancy Rekall to create a customer data platform. The CDP, according to Drew Trombley, director of business development at Rekall, will be a unified control center that connects all the mall's retailers and personalizes the in-person, online and mobile sales experiences of their customers.
Ensuring compliance with privacy laws
"Privacy will play a larger role," Raab said, "and we are now beginning to see some CDPs that integrate more privacy management functions such as consent management, subject access requests, personal data discovery in company systems and enforcement of privacy policies." Customer data platform tools could help enterprises address three core changes in the privacy landscape: new privacy legislation, new technology controls and the erosion of consumer trust.
Laws like GDPR place new demands on inventorying and managing consumer data. "CDPs are actually well built for an era of privacy regulation," Segment's French-Owen said. "Respecting customer privacy requires visibility into what data your business is collecting and how it's being used." But that visibility can be complicated by dozens of systems and customer touchpoints that are fragmented and siloed across a company's entire business.
Evolution of CDPs
The term customer data platform was first conceived in 2013 by David Raab. He observed back then that several vendors were building a unified customer database and running an application on top of that database, such as predictive modeling, campaign management or advertising audience selection.
"That was new because, previously, applications were designed to connect with an externally built customer database, and those databases were custom projects like a data warehouse," Raab explained. He thought that the concept of packaged software building a customer database needed to have an identity -- thus, customer data platform.
CDPs were a niche field initially but gained momentum in 2016, when CDP first appeared in the Gartner Hype Cycle. Since then, the CDP industry has grown rapidly, spawning new vendors and pushing existing vendors to reposition themselves. But in the process, confusion ensued over CDP's true definition.
To provide more clarity, the CDP Institute defined the platform as "packaged software that builds a persistent, unified customer database accessible to other systems." In 2019, the institute launched the RealCDP projects, further defining CDPs as accepting all data sources, retaining full details of inputs, storing data for as long as the user wants it, creating unified profiles and enabling access by other systems.
CDPs focused on data collection and accuracy can help solve this problem as a single infrastructure that provides visibility and control of their data. "This makes it much easier to be privacy-oriented for regulators, but also for your customers," French-Owen reasoned. Customer data platform tools can help companies quickly and accurately respond to consumers who want access to their collected personal information and perhaps want it deleted.
Mobile and browser providers like Google and Apple are reshaping the landscape of third-party cookies. "Everything from the loss of third-party cookie data to Apple's Intelligent Tracking Prevention and Identifier for Advertisers stem from privacy concerns, and companies need to respond to them all with a unified strategy," said Sav Khetan, vice president of product at customer data management and protection vendor Tealium. As a result, companies will need to rethink their entire data pipeline to move away from reliance on third-party cookies and find new ways to merge customer profiles and ensure legal compliance with privacy laws.