sommai - Fotolia
CEOs discuss Twilio's Segment customer data platform buy
Twilio plans to acquire Segment's customer data platform for $3.2 billion. The CEOs for both companies discuss the deal and 'the great digital acceleration' caused by COVID-19.
Twilio bought the Segment customer data platform for two reasons, according to CEO and co-founder Jeff Lawson: One, it's building a customer engagement platform and needed a CDP for personalization, and two, because Segment -- like Twilio -- is developer-oriented.
The $3.2 billion acquisition, announced earlier this month and still pending regulatory approval, pairs the Segment CDP with Twilio, a unified communications as-a-service platform that traditionally specialized in customer service. Over the past few years, Twilio has annexed territory reserved for marketing automation tech vendors and expanded its platform to cover email, text, video and social messaging for both service and marketing.
"Communications was just a means to an end," Lawson said. "It was the starting point that allowed us to understand how companies are trying to stitch together all the different customer touchpoints they have into a cohesive, meaningful customer journey."
The deal makes sense because Segment and Twilio don't overlap, but they both perform functions crucial to good digital customer experiences, said Nicole France, a Constellation Research analyst. While many CDPs have primarily served marketers, a Twilio-Segment platform that begins with a customer service perspective has the potential to unify capabilities far beyond marketing, she added.
Lawson discussed the impending deal with Segment co-founder and CEO Peter Reinhardt during Segment's CDP Week virtual user conference. He envisions Twilio as a customer engagement platform whose developer-minded users can build apps to compete in the digital economy
"This is worth the investment because it's central to Twilio's goal of being a full-blown customer engagement platform," said David Raab, founder of the CDP Institute. "Integrating data across touchpoint systems is the major weakness of the current leading cloud platforms."
Personalization, Lawson said, is how a company proves it understands a particular customer and builds a relationship with them.
No customer wants to feel like a database record, even though we all know we're a database record.

Jeff LawsonCEO and co-founder, Twilio
"No customer wants to feel like a database record, even though we all know we're a database record -- even though we know that Amazon doesn't personally know me [among] their billion customers that they really care about," Lawson said. "That's what a really good understanding of the customer, based on all the signals we receive, allows us to do. That's what's exciting."
Betting on developers in the pandemic economy
The first exploratory conversations between the two companies began about 18 months ago, Reinhardt said. Segment and Twilio have seen rapid changes because of the pandemic -- users compressed five-year plans to digitize sales and service processes, in some cases, into a single quarter, he said.
COVID-19's disruption of life as we know it in 2020, as Lawson put it, has brought "the great digital acceleration." Both CEOs, who started their careers as developers, felt that their companies are in good positions to serve their users because their respective companies' platform architectures enable developers to keep up with the transition -- especially on-site contact centers that suddenly had to support remote workforces when social distancing kicked in.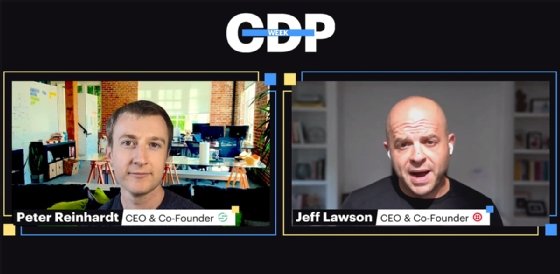 "The pandemic has obviously accelerated digital transformation," Reinhardt said.
At CDP Week, Segment released low-code features for business users who have no developer background to work with mobile app event data and to control customer data flow to downstream applications. Other features released include a security feature to manage protected consumer data for regulatory compliance, and a method to better manage first-party data that users collect on their own sites -- which will become more important as browsers including Google eliminate third-party cookies.
Segment's latest features enable users to build personalized experiences for their customers that look like those from much larger companies with massive developer teams, such as Netflix, said Segment CTO and co-founder Calvin French-Owen. Customers now expect that standard from all the media companies they deal with, regardless of size. He added that Twilio's impending acquisition of Segment validates customer data platforms in general as a tool to accomplish that.
"We're building that same infrastructure for everyone who's not one of those incredibly big, elite tech companies that have invested tens of millions of engineering hours building that out," French-Owen said.