Getty Images
Twilio's new CDP tool unites data for more personalization
Twilio's new tool uses its customer data platform, Segment, to connect real-time unified customer profiles with isolated data and boost marketing customization for better CX.
Twilio unveiled a new tool for its customer data platform to let users compile data for better customer personalization.
The customer engagement vendor shared the new product on Wednesday with audiences online at Signal, Twilio's annual conference for customers and developers.
The tool, Segment B2B Edition with Linked Profiles, enables marketers to unite all customer data from Segment, Twilio's customer data platform (CDP), as well as from data warehouses, to provide more personalization for CX.
Segment B2B Edition with Linked Profiles is scheduled to roll out globally in the coming months, according to Twilio.
Bringing together data on a broader scale
Linked Profiles enables marketers to create more relevant customer engagement materials by grouping together similar customers.
For B2B customers, it will help link related stakeholders involved in B2B purchases.

Keith KirkpatrickAnalyst, Futurum Group
"For B2B customers, it will help link related stakeholders involved in B2B purchases -- including users, approvers and purchasers -- and ensure that activities taken by one team member are reflected in the linked profile," said Keith Kirkpatrick, an analyst at Futurum Group. "This provides much more information that can be used by account teams to generate more personalized, relevant and contextual interactions."
The ability to pull together customer data on a broader scale lets marketers communicate with multiple related companies in a more informed way. This is especially useful for B2B companies, said Kevin Niparko, Twilio Segment vice president of product.
"It's particularly interesting for B2B customers, or companies where you want to model not only the user interactions that you're having, but the entire account or even a buying group within an organization, so you're speaking not only to the individual, but to the account holistically," Niparko said.
Businesses can use Linked Profiles to deepen their customer knowledge because the platform unites real-time customer data and connects it with all the channels for customer interactions, he added.
"This is the ability for the CDP to essentially move beyond the profile and allow marketers to unlock all of the data that's sitting in their data warehouse," Niparko said.
Within Linked Profiles, users can configure data graphs that connect data sets from a data warehouse as well as third-party CRMs and connect them back to the customer profile, said Hanhan Wang, Segment CDP senior manager of product management.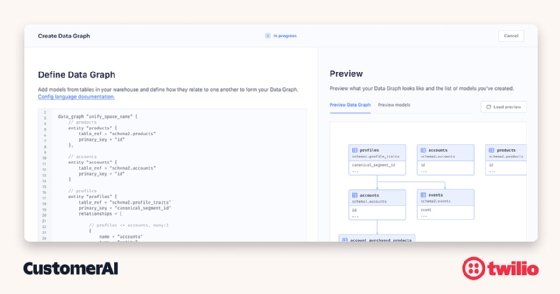 Compliant data compilation
In other Twilio product developments, to maintain data privacy, Twilio partnered with data and AI vendor Databricks and data cloud vendor Snowflake to offer a new tool called Zero Copy Architecture.
The Zero Copy Architecture pilot is scheduled to be available globally in the coming months, according to Twilio.
Zero Copy Architecture ensures data, such as accounts tables, will not be copied into other systems, Wang said.
"Your accounts table can stay in the [data] warehouse for maximum privacy and security. We don't have your account IDs floating around Segment and in our systems," Wang said. "It stays where the source of the data is."
It also eliminates data redundancy, Niparko said.
"This reduces the number of duplicates of data that you have around your organization, which is great for the enterprise to ensure compliance and data security around where data is living and how it's stored," Niparko said.
Compiling data to connect with AI
Twilio users can then use this customer data to inform generative AI tools in CustomerAI, what Twilio calls its technology layer that supports predictive and generative AI capabilities across its platform.
"This is essentially creating more context for large language models and some of our generative AI initiatives to be able to fuel that with additional context and additional personalization for predictive and generative use cases," Niparko said.
Mary Reines is a news writer covering customer experience and unified communications for TechTarget Editorial. Before TechTarget, Reines was arts editor at the Marblehead Reporter.