carloscastilla - Fotolia
Google adds single-tenant cloud options to court enterprises
Google Cloud has added more features to its single-tenant cloud deployment option, such as live migration for Windows BYOL scenarios, that cater to the needs of certain workloads.
Google has fleshed out customers' options and capabilities for dedicated hardware on its cloud, in a move that indicates the platform's growing focus on enterprise IT shops.
The company introduced single-tenant -- or in its parlance, sole-tenant -- nodes on Google Cloud in mid-2018. Rather than share infrastructure with multiple customers, with single-tenant cloud companies can run a variety of VMs on hardware that's exclusive to their workloads, which can address privacy, compliance and performance concerns.
Google Cloud has added three new features to its single-tenant cloud nodes. Live migration capabilities within a fixed node pool for Windows bring your own license (BYOL) scenarios are now in beta.
"By limiting migrations to that fixed pool of hosts, you are able to dynamically move your virtual machines between already licensed servers and avoid license pollution," Google said in a blog post. This approach also keeps customers on the most recent kernel updates, according to the post.
"This is just an example of the enterprise IT-focused momentum on their platform," said Deepak Mohan, an analyst at IDC. "BYOL in particular is a great benefit for enterprises, who typically have existing multi-year license agreements, as it minimizes sunk cost as they move their applications to the cloud."
Also in beta is an autoscaler function for groups of single-tenant nodes. This behaves in the usual manner, boosting and decreasing the size of a node group automatically according to workload demand. It will help customers make the most out of the resources they're paying for and cut costs, Google said.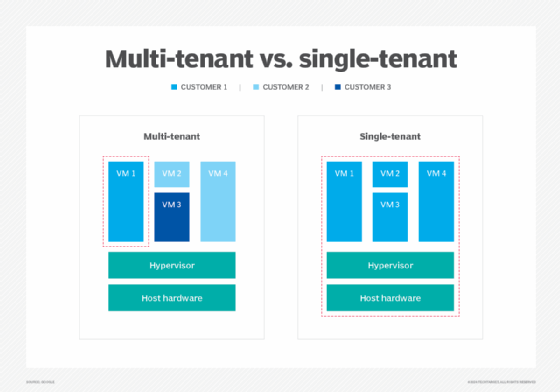 Finally, a utility for migrating workloads into, between and out of single-tenant nodes is now generally available. This can come in handy for customers that have special circumstances causing a spike in traffic, such as a major online sale, Google said.
Pricing for single-tenant nodes is calculated according to vCPU hour and memory, similarly to regular Google Cloud instance types, along with a 10% premium.
The announcement comes a couple months before Google's Cloud Next conference in San Francisco, where the company will showcase its offerings for large enterprise, particularly the Anthos container management platform.
Making it easy to migrate is one thing, but then operating these loads in a familiar way to enterprise IT is even more important.

Holger MuellerAnalyst, Constellation Research
Google Cloud CEO Thomas Kurian, a longtime Oracle executive who came aboard in late 2018, has made a series of executive hires and staffing moves aimed at attracting large enterprises, versus the developers who adopted the platform in its earlier days.

Overall, the single-tenant cloud advancements reflect this priority, said Holger Mueller, an analyst at Constellation Research.
"The competition for IaaS vendors is all about attracting the on-premise loads -- and a lot of that is on Windows Server," he said. "Making it easy to migrate is one thing, but then operating these loads in a familiar way to enterprise IT is even more important. That is what single tenancy of servers in the cloud means. While it's a violation of the cloud's elasticity principles, it is a big win on workload isolation, performance and familiarity."
Dig Deeper on Cloud provider platforms and tools