Eclipse Digital - Fotolia
Google Cloud adds mainframe migration expertise via acquisition
Google Cloud's push into large enterprise accounts continues with the acquisition of Cornerstone, but IBM has taken steps to protect its System Z installed base.
Google has continued its drive for more large enterprise customers with the acquisition of Cornerstone Technology, a Dutch company that specializes in mainframe workload migrations to public cloud infrastructure.
Founded in 1989, Cornerstone offers mainframe migration roadmap development, language and database conversion services, and mainframe data migration technology. Terms of the deal were not disclosed.
Mainframe workloads remain a critical part of enterprise IT, but they are typically written in aging languages such as COBOL and Assembler. Moreover, classical mainframe applications are monolithic by design, an approach that runs counter to today's modern, microservices-oriented approach.
Cornerstone has automated processes that break up monolithic mainframe apps into services, convert them into languages such as Java and provide cloud-native deployment through container environments, Google said in a blog post.
Microsoft and AWS consulting partners have offered mainframe migration services, and prominent application modernization vendors such as Micro Focus do business on those platforms as well. Google's move is a matter of specialization, said Charles King, founder and principal analyst at Pund-IT in Hayward, Calif.
"Micro Focus offers mainframe solutions as part of its larger application modernization portfolio, while Cornerstone focuses specifically on the needs of mainframe user and owners," King said. "That group, -- mainframers -- is one of the most technically astute and demanding audiences in the IT market, so it's critical that services vendors are as capable of walking the walk as they are at talking the talk. That isn't always the case with larger players."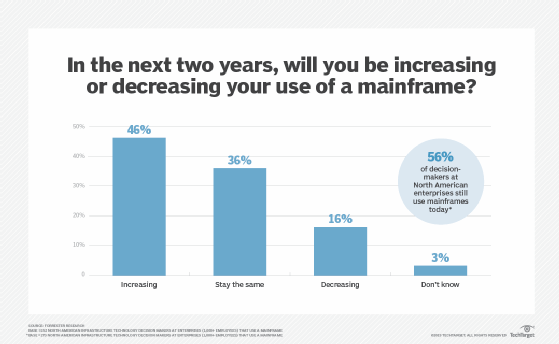 Google takes aim at long-standing opportunity
Mainframe modernization has existed as a concept for decades -- Cornerstone, for one, has been in business since 1989 -- but the approach has changed over time, King said.
Years ago, the focus was on moving mainframe apps to other vendors' hardware platforms, with Sun Micrcosystem's largely failed Blue Away program one prominent example, he said. "The problem with those efforts was that their primary audience was largely relegated to customers who were no longer growing their mainframe environments -- just using them to support aging legacy applications -- so business opportunities were fairly limited. The shift to cloud and evolving microservices is decidedly different and could have broader appeal."
It's a stretch to say that the cloud would thoroughly supplant IBM Z systems, but Google may attract some business from customers interested in a more flexible way of supporting apps that are currently mainframe-bound, according to King.
Meanwhile, as the third-place contestant in IaaS behind AWS and Microsoft, Google needs to pursue many avenues in order to move workloads to its cloud, said Holger Mueller, an analyst at Constellation Research. "Mainframe workloads are one and they are very well-suited to address it, as they scale for very large problems better than AWS and Azure, just DNA-wise," Mueller said.
The acquisition reflects Google Cloud CEO Thomas Kurian's plan to acquire more large enterprise customers. Other moves in this direction include his hire of longtime SAP sales chief Robert Enslin, a focus on select verticals and the recent introduction of a premier support tier.
Mainframe modernization doesn't lend itself to hasty decisions, Mueller said. "It's hard as they are mostly mission-critical apps. The art is to preserve code assets that are proven and working for moving to a next-gen app in the cloud."
For example, a company could create a new customer-facing application that uses old customer transaction code from the mainframe -- which has already been tested and approved -- and then enrich it with modern cloud services.
IBM builds out a mainframe moat
Whatever Google's commercial ambitions are for Cornerstone's mainframe migration technology, it will face some apparent inertia among customers. A Forrester survey released in 2019 found that 56% of respondents planned to increase their mainframe usage over the next two years, while 36% planned on the same amount of use.
IBM has also aggressively added support for newer technologies on System z. "All modern stuff runs well on the big box, from Linux to Kubernetes," Mueller said. "So cloud makes sense when you need infinite compute for AI/ML or storage for Big Data. Then the size nature of the mainframe is the problem. But that's the problem with all on-premises IT."
Consumption-based pricing is another cloud feature many customers find attractive, and IBM moved to address this last year with a new program for System z.
You are not going to see the Social Security Administration move all their processing of payments to retirees moved over to a public cloud.

Frank DzubeckPresident and CEO, Communications Network Architects
Also, most corporate users remain focused on private, not public clouds, when looking to migrate data from a mainframe, said Frank Dzubeck, president and CEO of Communications Network Architects, a Washington, D.C.-based consulting firm. That's because many large accounts are still fearful about moving mission-critical applications and data to a public cloud.
"You are not going to see the Social Security Administration move all their processing of payments to retirees moved over to a public cloud, or Citibank move their private wealth management client base over to a public cloud," Dzubeck said.
Cornerstone's technology approach is not to replace the mainframe but to give corporate users the opportunity to get rid of some less important or outdated applications that would serve to lower their in-house support costs. To this end, Google's ambitions are likely tempered.
"This move represents a competitive situation between Google and IBM, but [Google is] not necessarily trying to replace mainframes," Dzubeck said. "This is them trying to replace the mainframe out there on the crinkly edge."
Dig Deeper on Cloud deployment and architecture