twobee - Fotolia
AWS Marketplace update eases SaaS contract changes
Customers who buy software from ISVs through AWS Marketplace now have an easier way to update contract terms during the span of an existing agreement. The feature should help customers manage contract sprawl, analysts say.
AWS' online marketplace for SaaS buyers and sellers now makes it simpler for customers to tweak their contract terms to meet business needs.
There are more than 7,500 products available through the marketplace today, with prices and terms set by the individual independent software vendor (ISV). Many AWS customers make a small initial purchase and then seek to add more user seats or capacity prior to the contract's end, AWS evangelist Jeff Barr said in a blog post.
"We are making the process of upgrading and renewing these contracts easier than ever before," Barr wrote. AWS customers can now contact an ISV to hammer out a revised deal through what AWS calls private offers -- customized, negotiated terms that best meet the customer's current needs, he added.
AWS' move reduces friction for SaaS buyers, sellers
While AWS has had private offers in the marketplace for a few years, the update adds automation to the process of updating contracts. Interactions take place in a graphical user interface between sellers and buyers and once a customer clicks to agree on the new contract, it goes into effect immediately.
"This new, streamlined process means that sellers no longer need to track parallel (paper and digital) contracts and also ensures that buyers receive continuous service," Barr said.
The upgraded feature should be useful for customers of all sizes as well as ISVs with products on the AWS marketplace, said Duncan Jones, an analyst at Forrester who serves sourcing and vendor management professionals.
"Many SaaS vendors rely on a land-and-expand approach to penetrate enterprises, selling initially to individual employees, departmental mangers or someone else with a need and a budget," Jones said.
Then they can approach a more senior executive in the enterprise, show how the initial purchase was a success, and offer a corporate contract with better prices and terms, in return for making them sole, preferred, or at least an approved source across the organization, according to Jones.
"That's usually more effective than starting at the top and then having to endure a long sales process while the decision maker chooses one corporate standard," he said.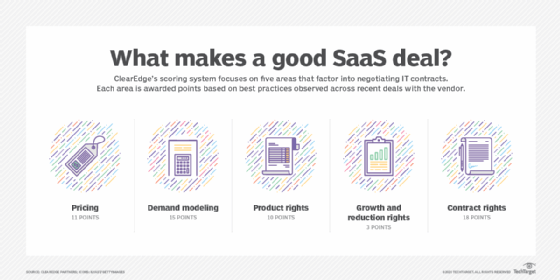 The new AWS marketplace capabilities mean an ISV doesn't have to create a separate order-to-cash process for the new agreement, Jones added. "It's also simpler for the customer to consolidate various departmental purchases into one contract and invoice."
Giving existing customers the ability to amend orders online presents another advantage, according to Jones: "Adjustments can be time-consuming on both sides."
The update to private offers also benefits AWS, according to R "Ray" Wang, founder and CEO of Constellation Research.
"This is all about account control," he said. "If you manage it all here, Amazon has account control and while it makes it easier for customers, it benefits Amazon the most. It's like operating an SAP Ariba network within Amazon. The value is in the network and the ecosystem."
Still, the benefit to customers is significant as well. "It's so hard to manage these contracts as the complexity increases," Wang said. "It's not just per user per month."
Dig Deeper on Cloud app development and management