Konstantin Emelyanov - Fotolia
Google Anthos update adds on-premises clout
An update to Google's Anthos makes the container management and orchestration platform feel more at home inside customers' data centers.
Google has launched a new version of its Anthos hybrid container management platform with features that add integration with more of its cloud services, improved developer productivity, security and bare metal deployments as it tries to court large enterprise customers.
Anthos, which became generally available in April 2019, involves a complex set of software, including Google Kubernetes Engine, the Istio service mesh and Stackdriver for system logging and monitoring. It also includes Config Management, which customers can use to apply policies to workloads. Google Anthos provides a means for managing containers across public cloud and on-premise environments, which has emerged as a hot trend in enterprise IT.
"The center of the funnel is Kubernetes orchestration systems," said Al Gillen, an analyst at IDC. "Everybody has got some kind of strategy. What is really telling is that Google has woken up and realized to have a strong cloud business, they need a solution that is [also] on-prem."
To that end, the version of Google Anthos launched this week adds initial support for Google AI technology on premises. AI requires massive amounts of data that in many cases is stored inside a customer's data center and must remain there for privacy reasons. An initial AI service, Speech-to-Text On-Prem, is now available on Anthos. The speech transcription service includes support for five languages now, with additional ones in the works, Google said in a blog post.
Other new features in the update Google Anthos include attached clusters. This capability gives customers the ability to manage Kubernetes clusters in third-party services along with ones in GKE. It's been certified for Azure Kubernetes Service and AWS Elastic Kubernetes Service, with support for additional implementations coming soon, according to Google.
Google has woken up and realized to have a strong cloud business, they need a solution that is [also] on-prem.

Al GillenAnalyst, IDC
The update also introduces support for bare metal deployments, now in beta. This could prove attractive to many on-premise Anthos users, as until now, they were required to deploy the software stack on top of VMware's vSphere virtualization platform. A bare metal option allows customers to avoid the licensing overhead of VMware.
Google added features for developers in the Anthos update, including an integration between Google's Cloud Code IDE and Cloud Run for Anthos. The tie-up means developers can build serverless apps from familiar IDEs such as VS Code.
In addition, the new release adds Anthos Identity Service. Customers can extend their existing identity management systems to Anthos via the OpenID Connect protocol.
With Anthos, Google is focusing on customers with broad on-premises footprints, with an eye on the future, Gillen said. "They want to get them on a series of stepping stones that will take them to the Google cloud. We're really just seeing the maturity of Google's go-to-market [strategy] here."
Anthos on premises finds appeal
Major League Baseball adopted Anthos as part of a new machine vision tracking system it installed in stadiums for this year's season, said Kris Amy, vice president of technology infrastructure for Major League Baseball, in a session at the online Google Cloud Next '20 event this week.
The system captures data on things such as the velocity and spin rate of a pitched baseball and the position of players on the field. Data is processed inside the stadiums and then pushed to Google Cloud for use in the league's web properties, Amy said.
The previous system ran on an aging hardware stack that provided one VM per application, running on local storage. Applications were packaged with RPM, and the setup had no provisions for automatic failover. Instead, two copies of every app ran in active/active mode. MLB also had no ability to scale application processing up or down.
This year, MLB moved to Anthos on premises, implemented on VMware. It standardized on containers for all of its applications, both in the cloud and on-premises, and added automatic failover and horizontal scale out.
Anthos will be a key component of MLB's TV presentation and online experience moving forward, Amy said.
H-E-B, a grocery chain with more than 400 stores in Texas and Mexico, will be in production on Anthos by September, said Joe Rodriguez Jr., platform engineering manager, in another Cloud Next '20 presentation.
The grocer began to map out a two- to four-year modernization plan beginning in 2017. That time frame was necessary, Rodriguez Jr. said. "The critical thing about enterprises is they're like ships. They're a little slower to turn. … We were still living in the tightly-coupled world of servers, VMs and mainframes."
Initially, HEB signed on with Google Cloud and used GKE to move toward a container-first approach to application delivery, he added. The company managed to rewrite more than 15 of its mainframe apps for GKE. Later, it decided to adopt Anthos. "[We] wanted to stay close to open source, to build on that technical competency we got through GKE," Rodriguez Jr. said.
Anthos gives H-E-B tighter control over compliance and better proximity to retail data. "We want to use it as a launch point into other clouds," he said.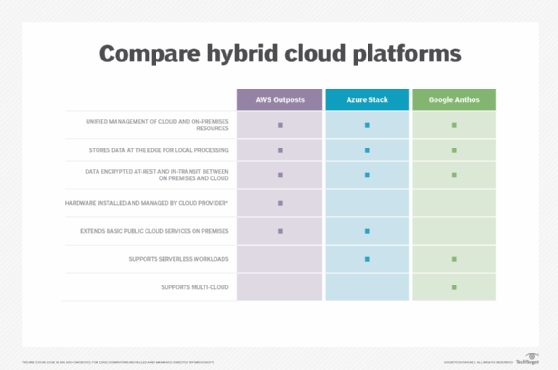 Google Cloud builds more on-premises bridges
Prior to the new Anthos release, Google Cloud introduced CPU overcommit capabilities for single-tenant nodes, in a move that brings a familiar on-premises data center practice to the cloud.
CPU overcommit involves provisioning vCPUs in numbers that are greater than the number of physical cores available. This allows enterprises to squeeze more efficiency out of their infrastructure, since many common workloads don't need the full amount of compute and memory provided by a physical core.
The new Google Cloud feature allows customers with sole-tenant nodes to overprovision vCPUs by up to 100%. Google's system will automatically move vCPUs running idle VM instances over to ones that need more resources, Google said in a blog post.
Beyond a general increase in system utilization, use cases for Google Cloud's CPU overcommit include more efficient virtual desktop deployments; and lower costs for software that uses a physical core-based licensing model, such as SQL Server, according to Google.
Customers can fine-tune CPU overcommit at the VM instance level, setting parameters for the minimum number of vCPUs as well as the maximum number of "burstable" vCPUs, Google said. The system also provides VM monitoring data for CPU overcommit levels.
This capability will be valuable to customers, said Deepak Mohan, an analyst at IDC. "While it may seem complex, this matches the existing on-prem capability and CPU usage optimization approach -- making it easier to move existing VM-based workloads to cloud in a cost-optimized manner," he said. "Delivering it as a clearly defined service makes it easier to understand and consume for enterprise IT customers – who are familiar with CPU overcommit and typically have predetermined ratios for different types of workloads."
The feature comes at added cost. Sole-tenant nodes with CPU overcommit enabled carry a 25% upcharge.
Dig Deeper on Google and other public cloud providers