carloscastilla - Fotolia
Google Anthos multi-cloud platform now GA on AWS
Kubernetes-based Anthos is generally available on AWS, giving customers the ability to manage workloads there, as well as across Google Cloud and on-premises environments.
Google's Anthos hybrid cloud platform is now in general availability for deployment on AWS, in a move that delivers on a multi-cloud vision the company first discussed two years ago.
This means customers can run and manage Kubernetes-based application workloads across Google Cloud Platform, on AWS and on-premises locations with the assurance of a general availability label for the managed service. Anthos, which was originally called Google Cloud Services Platform, also has support for Microsoft Azure in preview.
Early adopters of the multi-cloud version of Anthos include KeyBank and Plaid, a Japanese company that provides analytics for online user activity, according to a statement.
Anthos employs a complex stack of software, including Google Kubernetes Engine, Istio service mesh, Stackdriver for logging and monitoring, and Config Management for setting policies on workloads.
The new Anthos release extends Anthos Config Management to VMs, as well as containers, in a nod to the fact that most companies want to run both resource types. To this end, in a future release Anthos Service Mesh will add support for applications running in VMs, Google said.
Google was expected to feature customer momentum around Anthos at its Cloud Next conference this month, but like so many others the event was canceled due to the coronavirus pandemic.
There are "close to three digits" worth of customers running Anthos on premises today, with many in production, said Eyal Manor, vice president of engineering at Google. He declined to specify how many have adopted the version running on Google Cloud but claimed the number is growing "very, very fast."
Anthos is aimed at large enterprises, which is reflected in its steep pricing. Google will adjust pricing based on customer feedback over time, Manor said. It also plans to offer some relief to customers running it on premises.
At present, customers must implement Anthos on top of VMware's vSphere virtualization platform, but a future Anthos release will add support for bare-metal. The move will free customers from the VMware licensing burden if they choose.
This does not mean Google wants to retreat from its partnership with VMware, Manor said. "In the past year, a lot of customers said, 'we want it on bare-metal,'" he said. "As with any vendor, we're listening to customers that want a choice."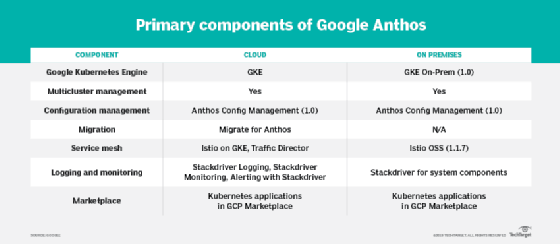 The multi-cloud competition
Microsoft essentially followed up on Anthos' core proposition with the launch of Azure Arc in November. Arc, which remains in early development, will give customers the ability to manage Kubernetes clusters "on any infrastructure across on premises, multi-cloud and edge," including on AWS and Google Cloud, Microsoft said at the time.
AWS, which holds a substantial market share lead over fellow hyperscalers Microsoft and Google, has not indicated any similar plans. Rather, it has focused on extending the AWS computing environment and software fabric to customers' data centers and edge locations through its Outposts appliances.
The vendors' tactics may differ, but ultimately customers share a common desire, said Rick Villars, an analyst at IDC.
What customers want is to get the cloud experience anywhere they need it. And they want it to be common [tooling].

Rick VillarsAnalyst, IDC
"We have a challenge in that terms like multi-cloud and hybrid cloud can get intermixed and contrasted in customers' minds," he said. "What customers want is to get the cloud experience anywhere they need it. And they want it to be common [tooling]."
Google's messaging for Anthos has focused heavily on how the platform helps customers avoid lock-in with regard to infrastructure -- even as they commit to its software stack.
But lock-in could be an imprecise term in this context, Villars said. In weighing a platform such as Anthos, customers should base their decision not just on its technical merits, but also the level of industry engagement around it. "There is a commitment to an ecosystem," he said. "Ultimately, the customer has a need for advanced services. ... Which [platform] aligns with the investments they've made today?"
Google is mindful of this need. At Cloud Next 2019, it revealed Anthos-related partnerships with dozens of systems integrators and independent software vendors. More recently, Google introduced the Anthos Ready Storage program with Dell EMC, Hewlett Packard Enterprise and NetApp, among others.
Dig Deeper on Cloud app development and management