Minerva Studio - Fotolia
Google Cloud Services Platform presses hybrid cloud agenda
Google has pushed its Cloud Services Platform for hybrid computing into beta. The software is based on Google Kubernetes Engine and is geared toward application modernization.
Google's entry into hybrid cloud computing is closer to general availability, but questions remain about the service's ultimate reception among enterprise customers.
Google Cloud Services Platform, which debuted last July and is now in beta, is geared for application modernization, whether a customer wants to run refactored workloads in the public cloud or their own data centers, according to the company. Its foundation is Google Kubernetes Engine (GKE), the managed service for secure orchestration of Kubernetes containers.
A key component, Google GKE On-Prem, applies GKE to private data center environments. Other elements include a managed version of Istio, the open source service mesh, along with Stackdriver Service Monitoring and Apigee API Management.
The beta launch of Cloud Services Platform also adds a feature called Config Management, a governance layer that enables customers to create container cluster policies for role-based access, resource parameters and namespaces. The system can detect when changes have been made that clash with established policies and alert administrators automatically.
One key difference from the likes of Azure Stack, AWS Outposts and Oracle Cloud at Customer is that Google Cloud Services Platform is a software stack only, not a system that integrates software with specialized hardware. Google's intent is that customers use their existing hardware when possible, although it must be underpinned by VMware. This approach also will help Google avoid the need to build and support its own appliances, or develop hardware partnerships and certifications.
Down the road this could change, however. Google Cloud CTO Brian Stevens previously told TechTarget that ultimately the company would look at a model to develop multiple infrastructure stacks for different OEM partners.
This isn't Google Cloud's only hybrid play, either. It has a partnership with Nutanix to deliver a single control plane for customers to manage their hyper-converged, on-premises Nutanix environments and extend them to Google Cloud services.
Google has worked with early customers since the initial launch of Cloud Services Platform, said Chen Goldberg, head of engineering for Container Engine and Kubernetes, but she declined to say when Cloud Services Platform will become generally available. Pricing will be based on a similar cost model as GKE, she said.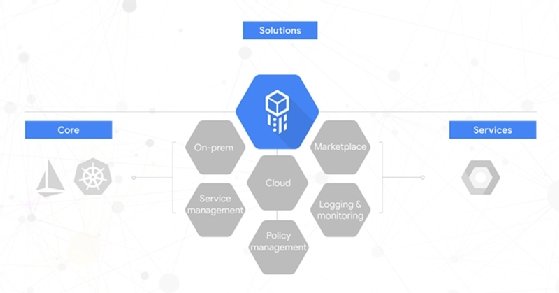 Google rides the container wave to win enterprise cloud converts
Google Cloud Services Platform reflects enterprise IT's overall embrace of containers, both to refactor older applications -- not just lift and shift them -- and support new kinds of portable workloads, such as IoT to gaming applications, said Larry Carvalho, an analyst at IDC. Appealing to this range of scenarios will help Google secure more enterprise workloads, which it needs as it trails well behind AWS and Microsoft Azure in market share.
Even though Google is seen as a top player for AI and machine learning in the cloud, from a buying standpoint, a small percentage of the market cares about those capabilities today, said Maribel Lopez, principal analyst of Lopez Research in San Francisco. Application modernization is hot on the minds of enterprise IT, though, and Google Cloud Services Platform can tap into that interest.
"Right now [Google needs] something that's a little more immediate, a little more visceral," she said. "If Google can convince customers they are the PaaS provider to do that, it can be strategic for them."
Google's Cloud Services Platform also positions Google as an ideal partner for systems integrators, such as Accenture, TCS and Cognizant.
Dig Deeper on Cloud app development and management