Getty Images/iStockphoto
Latest Google Cloud AI shines spotlight on retail automation
AI-powered automated inventory tracking systems aren't perfect. However, retailers with high rates of lost sales from missing items in stores could still achieve a decent ROI.
In 2018, Amazon opened its first store using its Just Walk Out cashierless checkout technology. People with the Amazon shopping app on their phone could select items and leave the store; the bill was charged to their credit or debit card on file with Amazon.
"[It's] what led to a lot of market interest and hype and buzz around the industry, and spawned an entire ecosystem of vendors and solutions," said Sandeep Unni, a senior director analyst at Gartner. "It has lifted all boats in the industry."
Today, big-box retailers are kicking the tires of systems that use AI to analyze images or video from aisle-roving robots or strategically mounted cameras. The systems notify store workers when product levels on shelves are low. Supermarket chain Giant Eagle, for example, is testing Google Cloud's recently launched AI software for analyzing store inventory.
Graham Watkins, executive vice president of supply chain transformation and retail innovation at Giant Eagle, told The Wall Street Journal that Google Cloud's AI was more than 90% accurate in the retailer's early tests. That wasn't quite good enough for Giant Eagle to license the service as well as the expensive in-store hardware and software needed to feed data to Google Cloud.
Nevertheless, Watkins said the company plans to continue testing the service. The chain intends to pilot the technology in an actual store later in the year, but hasn't committed to deployment across its 490 stores.
Giant Eagle declined a TechTarget Editorial request for an interview.
"I'm absolutely seeing the tech maturing," Unni said. "The maturity of the tech is headed in the right direction, but I would say that we are still a few years out."
A critical challenge is having the AI software identify the tens of thousands of items in the average supermarket or Walmart-like store. The software's algorithmic engine needs massive amounts of data fed to it so that it can perform the task.
Google Cloud created a database of billions of unique items. The cloud provider touts its algorithms as capable of identifying products from various image types taken from different angles and vantage points.
The company showcased its shelf-checking technology at this week's National Retail Federation conference in New York City. Google Cloud plans to make the AI service generally available this year.
A Google Cloud-like service frees retailers from becoming AI scientists. Still, it leaves them with the hefty expense of deploying cameras or robots. Some vendors offer in-store technology through a subscription model to make the capital expense more manageable.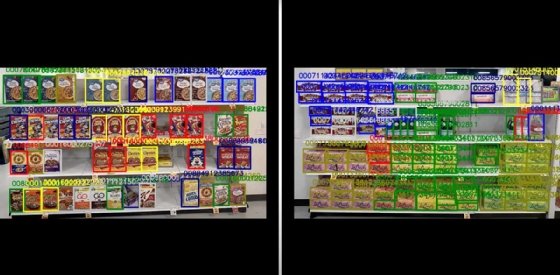 In-store tech improving
Google Cloud partner Brain Corp develops the navigation and scanning software that goes into partners' shelf-scanning robots. The machines travel up and down aisles throughout the store, constantly checking for low inventory.
Some of the company's partners offer retailers the option of subscribing to "robots as a service," said Gavin Donley, Brain Corp senior product marketing manager.
In 2020, Walmart canceled its contract to use inventory-tracking robots from Bossa Nova Robotics. The retailer found simpler ways of using people to monitor store shelves.
But a year later, Walmart found an alternative for its 600 Sam's Club stores. The company installed shelf-scanning cameras on towers attached to autonomous floor scrubbers powered by Brain Corp. Walmart-developed software analyzes the images to track inventory.
During the past several years, Brain Corp has significantly improved its robot navigation software, which it sells through a SaaS model, Donley said.
"It can make decisions more quickly and navigate more smoothly," he said. "That's really what it comes down to: smoother navigation."
The cameras used for inventory tracking have also improved, said James Stark, retail segment development manager at manufacturer Axis Communications. The most significant advancement for retailers has been the reduction in infrastructure support.
A retailer can deploy 64 of Axis' latest FA Series modular cameras on a single 16-port power-over-Ethernet switch, Stark said. Older models can require 48- or 24-port hardware, which means more cabling.
The number of cameras covering a store's shelves varies considerably and requires a site designer.
"You're going to deploy various makes, models and quantities of cameras based on your business appetite and its needs," Stark said.
Consider today's products' ROI
Gartner's Unni is confident retailers will eventually deploy advanced technology to replace today's less efficient manual process of checking shelf inventory.
Low stock can have severe consequences. In 2021, empty shelves caused by pandemic-related disruptions cost U.S. retailers $82 billion in missed sales, according to a NielsenIQ analysis.
Depending on a retailer's rate of lost sales from missing inventory, even today's technology could provide sufficient ROI.
"For some retailers, [the cost] may be a non-starter," Unni said. "But for others, based on their current processes and labor, it may be [good] enough to get started."
Antone Gonsalves is networking news director for TechTarget Editorial. He has deep and wide experience in tech journalism. Since the mid-1990s, he has worked for UBM's InformationWeek, TechWeb and Computer Reseller News. He has also written for Ziff Davis' PC Week, IDG's CSOonline and IBTMedia's CruxialCIO, and rounded all of that out by covering startups for Bloomberg News. He started his journalism career at United Press International, working as a reporter and editor in California, Texas, Kansas and Florida. Have a news tip? Please drop him an email.
Dig Deeper on Cloud deployment and architecture