Oleksiy Mark - Fotolia
A primer on Alibaba Cloud for enterprises outside of APAC
When Western cloud users think of major cloud providers, it's typically the top three: AWS, Google Cloud Platform and Microsoft Azure. But what about the world's fourth largest cloud provider?
Most people outside of Asia, if they know anything about Alibaba, think of it as a gigantic e-commerce site. However, similar to Amazon, Alibaba Group is an online powerhouse that reaches into every corner of the internet, including cloud computing.
Alibaba Cloud, much like AWS, sprang from the parent company's enormous need for resources to support its retail operations. Its origins stem from Alibaba Singles' Day in November 2010 -- a shopping event that Amazon later emulated with Amazon Prime Day.
After several years of domestic growth, the company opened its first U.S. data center in California in 2015 to expand its business internationally. It now operates in 18 regions around the world, but it is still focused more on the domestic Chinese and other Asian markets. Nevertheless, Alibaba is the fourth largest provider of cloud services in the world, with an estimated 5% market share, according to Synergy Research Group.
Alibaba Cloud features
Alibaba Cloud, also known as AliCloud, offers a range of infrastructure, platform and application services in numerous areas. Such offerings include storage, network, database, analytics, security and application platform services.
There are three ways to connect private data center networks to Alibaba Cloud, all of which will be familiar to enterprise cloud users:
traditional site-to-site IPSec VPN;
high-speed private fiber network using Express Connect; or
a multi-site network backbone using Cloud Enterprise Network.
Alibaba Cloud offers a complete range of infrastructure services along with some application and developer products. Although its feature set can't match the breadth of AWS or Microsoft Azure, Alibaba's offering is as comprehensive as that from Google Cloud and Oracle Cloud.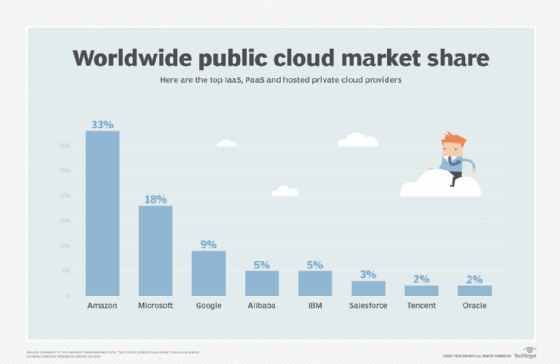 Alibaba pricing model
AliCloud follows the usage-based pricing model standardized by other cloud providers, and offers capacity in both prepaid and on-demand formats -- such as reserved capacity and pay-as-you-go billing.
Usage for most services is billed in hourly increments. Cloud resources are available both on-demand and, for reduced rates, on the spot market when available, while subscription terms can vary from weekly to annually.
A single price comparison of AliCloud Elastic Compute Service (ECS) versus Amazon EC2 shows that it is cheaper for an equivalent configuration when the 50% monthly discount is applied. However, the base prices are approximately the same with Amazon EC2 costing $110.23 and Alibaba Cloud ECS coming in at $108.36 before the discount.
AliCloud is available in 168 countries, served from its 18 cloud regions. Making things convenient for U.S. and European customers, Alibaba bills in U.S. dollars and accepts Visa, MasterCard, American Express and PayPal.
Viability for U.S. and European companies
Alibaba offers a comprehensive set of cloud services, but that portfolio doesn't set it apart from the more familiar cloud companies in Western nations. In assessing the six largest IaaS providers, Gartner considers AWS, Azure and Google leaders in its most recent assessment, with Alibaba Cloud, Oracle Cloud and IBM Cloud listed as niche players.

Thus, the only reason a U.S. company might consider Alibaba is when planning a significant expansion of its business into mainland China, where Alibaba has more facilities and network connection points.
Alibaba's weak position in the U.S. and Europe isn't hurting its business, since there is plenty of growth in Asia. Its Q3 2019 earnings report showed that its cloud revenue was up 64% year-over-year, which continues a string of 10 straight quarters of 60%+ cloud growth. Thus, large organizations with significant Asian operations should find Alibaba Cloud to be a reliable cloud destination for regional expansion in a global, multi-cloud environment.