AI-driven development trends shake up the cloud market
Enterprises are increasingly interested in AI, and cloud vendors are in a race to adapt their platforms to meet those needs. See what initiatives are underway to meet the next wave of app development.
The growing power and prevalence of AI and machine learning software is forcing a dramatic revamping of computer infrastructure -- starting with system microprocessors and extending all the way up to enterprise applications.
Leading public cloud vendors, such as AWS, Microsoft and Google, are forging more AI-driven development paths to address the needs of the ever-changing cloud market, giving enterprises various choices. The way enterprises design applications has shifted dramatically, with more interest in AI. By 2025, at least 90% of new enterprise applications will feature AI components, IDC estimates. Applications with AI as part of their functionality have different design foundations, performance needs and system requirements than those that do not.
Take a closer look at what vendors are working on -- when it comes to AI-driven development -- to meet enterprise needs.
AI's purpose
Computing infrastructure is tuned to expedite the processing of mathematical equations. Throughout the growth of digital technology, servers, storage systems, networks and system software were built to support software that followed set, sequential processing routines. AI computing works differently.
"AI is not a good fit for systems that add numbers and search for records in a database," said Karl Freund, analyst at Moor Insights and Strategy, where he focuses on high-performance computing and deep learning. Instead, AI-based software collects information and draws deductions. For example, an AI program compares patterns to differentiate one person's face from another's.
If we fast-forward five years, no enterprise application will be built that does not rely on AI and machine learning.

Karl FreundAnalyst at Moor Insights and Strategy
With a focus on AI-driven development, vendors are creating and revamping cloud services based on new foundations. Companies are fine-tuning microprocessors -- look to the Google Tensor processing unit and Nvidia's GPU as examples -- to support AI computing demands.
Top cloud providers also have created services for AI developers. Microsoft is working with large enterprises to deliver company-specific AI and machine learning (ML) offerings, such as Azure Cognitive Services, which has various APIs to help build intelligent apps. Google is focused on a high-performance computing foundation with its Tensor processors.
AWS, on the other hand, has focused on natural language processing (NLP) tools, such as Amazon Transcribe, which converts speech into text and Amazon Polly that turns text into life-like speech. "AWS is helping companies build NLP e-commerce applications, create chatbots and deliver recommendation engines," Freund said.
Obstacles to AI-driven development remain
AI is still in the early days of development, and the learning curve is steep, said Sriram Subramanian, analyst at IDC. These systems are new and quite sophisticated, so an enterprise typically needs to hire different types of employees, such as data scientists and individuals with expertise in statistics and mathematics, to drive their development and use.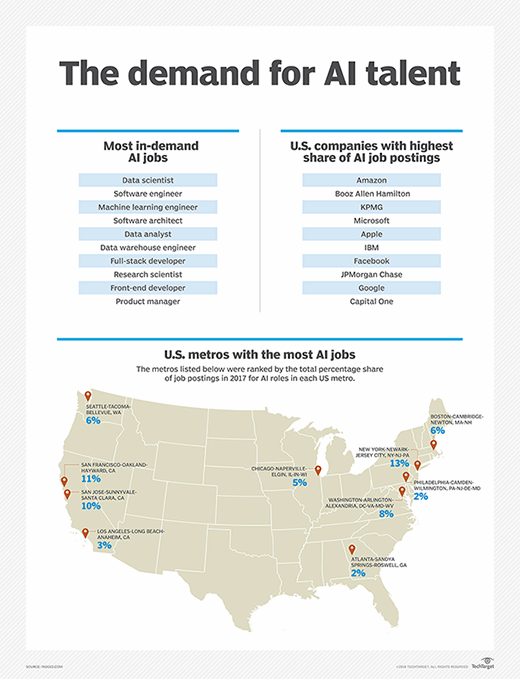 Even with impressive brainpower behind them, there is no guarantee that AI-based software will actually work well. IDC found that one in four enterprises report a failure rate of up to 50% for their AI projects. In some cases, the failures have been quite spectacular. For example, MB Anderson Cancer Center invested more than $60 million in a project using IBM's Watson to improve patient diagnoses and eventually shelved it.
Two roadblocks stand in the way of AI-driven development: data collection and analysis. Enterprise applications often identify information differently. For example, an item -- like a customer's address -- may be listed in one system one way and differently in another and it is no easy task to reconcile the variations. It doesn't help that the data models are usually large -- in some cases there are petabytes of information -- and it's a challenge to simply upload and store all of it.
This is when developers tend to look to different tools and services to ease some of the stress. However, tools for developing AI and machine learning applications are complex, and customizing company information is often tedious and error-prone.

Vendors are teaming up to simplify the application development process, lower costs and enhance results. In August 2019, AWS, Nvidia and VMware began working together to make cloud AI services more approachable for traditional enterprises.
"We expect to see more widespread marketplaces for AI/ML models and algorithms that provide prebuild images, models, virtual machines and other features," Subramanian said, citing examples such as Google AI Hub, a hosted repository for AI components.
Given the potential benefits that artificial intelligence and machine learning offer and the potential revenue they will generate, expect companies to work out the kinks with AI-driven development initiatives. "If we fast-forward five years, no enterprise application will be built that does not rely on AI and machine learning," Freund said.