Fotolia
BPM market advances around AI, cloud technology
As AI, microservices and other emerging technologies transform the BPM industry, enterprises need to carefully navigate their business processes to the cloud to avoid GRC risks.
The traditional BPM market continues to be usurped by nimbler alternatives delivered as cloud- and microservices-based...
Continue Reading This Article
Enjoy this article as well as all of our content, including E-Guides, news, tips and more.
apps. And while this enables enterprises to take advantage of a new class of AI and bots, as well as streamline certain business processes, it also introduces unique risks that enterprise architects must address.
BPM market faces identity crisis
A large portion of BPM tool implementations exist because other enterprise applications, such as a customer relationship management (CRM), ERP or enterprise content management system, lack robust workflow management features. But now, new business process and workflow management components have emerged.
If a BPM tool is delivered as microservices, for example, enterprises could swap out the workflow layer within other applications with the BPM microservices. However, this can only happen as fast as the legacy ERP, CRM and other enterprise application providers move to a microservices architecture.
This transition will likely be a lengthy one, as most enterprise application vendors have 10 to 15 years of legacy monolithic code to deal with, said Brian Reale, co-founder and CEO of ProcessMaker, a BPM tools provider and consulting firm.
Despite the potential benefits of microservices-based BPM tools, emerging mandates, like the EU's General Data Protection Regulation, could work against their adoption and give traditional, monolithic BPM code bases a second wind. This is because the more traditional tools make it easier to manage all enterprise data in one place, which offers better governance and control than having to track data across disparate services and tools.
AI evolves to address business challenges
Cloud providers continue to differentiate their AI offerings. And while the first generation of AI tools primarily solved technical problems, some now target more business-oriented improvements and could further shake up the BPM market.
For example, tools like Salesforce Einstein can recognize scoring sales leads, identify fraud and make product recommendations -- all of which can be woven into business workflows.
Some providers also now offer AI libraries, which package together various algorithms, aimed at streamlining business processes for enterprises to bake into their applications.
In 2018, very targeted, specific AI will gain more mainstream adoption.

Laks SriniCo-founder and CTO, Zenefits
"In 2018, very targeted, specific AI will gain more mainstream adoption," said Laks Srini, co-founder and CTO at Zenefits, an HR SaaS platform. "We've reached an inflection point where AI libraries that address very specific issues have become widely available."
Enterprises also continue to adopt bots to improve processes, such as app development. For example, Zenefits uses bots to enable developers to obtain information via a push, rather than a pull, model. The company can now deliver information and updates to developers at every step of the deployment pipeline, rather than requiring developers to track down and process that data themselves.
Chatbots will also become more widely used for enterprise customer support, Srini believes. This will help reduce overall support costs and offer opportunities for increased revenue.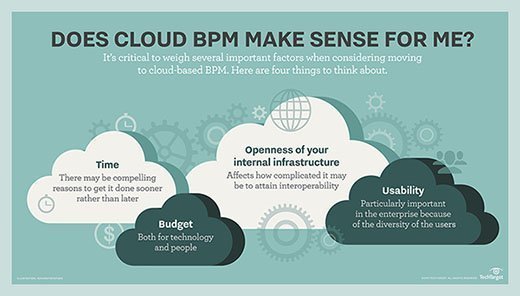 Potential GRC challenges and benefits
While microservices, AI and chat-based services might transform the BPM market, they do create potential challenges around governance, risk and compliance (GRC). For example, to improve the execution of business processes, such as predictive lead scoring or fraud detection, AI-based applications might require sensitive financial or personally identifiable data. Businesses need to ensure guardrails are in place to protect this data as it moves through these new workflows.
On the other hand, some believe the strategic use of AI and bots could actually improve GRC and ethics overall. For example, historically, organizations have had to deter certain types of employee disclosures due to limited resources and an inability to manage the sheer volume of reports. AI and bots help facilitate the intake of this information in multiple ways. They can provide a richer and more interactive intake process, offer more contextually relevant information and manage the escalation and assignment of issues to the most appropriate contacts within the compliance and ethics department. Ultimately, this could enable enterprises to more quickly identify and address potential risks.
Dig Deeper on Cloud app development and management