yoshitaka272 - Fotolia
Gearset adds Salesforce backup to its toolbox
Gearset Data Backup takes backups more frequently than Salesforce's native tools and uses Gearset's deployment engine, normally used for DevOps, for recoveries.
Gearset CEO Kevin Boyle claims backup must be a part of Salesforce software development rather than its own separate process.

Gearset launched its Data Backup product at the end of July to protect Salesforce users against data loss from accidental deletions and overwrites. The software automatically exports a copy of a Salesforce organization's data and metadata to an AWS data center in Ireland every 24 hours and can also run backups on demand. For recovery, the software restores the entire state of the organization, including hierarchies and relationships, by using the same deployment engine found in Gearset Deploy, the company's Salesforce software release management tool.

Gearset Data Backup costs $2.50 per user, per month, and includes unlimited backup data storage. Customers do not need a separate license for Deploy, which is billed as a Salesforce DevOps tool, for Data Backup. However, Boyle said most customers buy them together because there are rarely separate IT teams handling Salesforce software development and Salesforce backup. He said timing Deploy releases with backups makes sense, and both are part of the overall DevOps process.

"There's no reason to have backup separately. It all has to be joined together. It's all one holistic DevOps challenge," Boyle said.

Based out of Cambridge, England, Gearset has many U.S. customers, including McKesson Corporation, Zillow and Johnson & Johnson. Boyle founded Gearset in 2015 alongside Matt Dickens, Gearset's head of marketing. Both had previously worked at Redgate Software, Boyle as a software developer and Dickens as a software engineer. Boyle said at the time, there were no software development tools for Salesforce, and he and Dickens wanted to build a tool to help with the development process from staging to launch. Gearset was started with investment funds from Redgate and has grown from seven employees in early 2015 to 67 now, Boyle said.
Boyle said Salesforce's native backup and recovery had always been a weak point. Salesforce's biggest gap is an inability to protect customers from their own mistakes and from ransomware attacks. Its weekly export tool is not frequent enough for any business to rely on it. However, Boyle doesn't put the blame on Salesforce, as he feels the bulk of its responsibility is to provide a reliable customer record management platform. He said in that regard, Salesforce is "pretty darn good," considering unannounced outages rarely happen.

"You can't expect a platform vendor to do everything themselves," Boyle said.
Salesforce Data Backup was available through a pilot program since November 2019. There have been changes, such as notifications, more configurable data retention rules and better detection of anomalous record changes. Daniel Barckley, Salesforce architect at Techstars, was part of the beta test and had been using Gearset for a little over a year.

Techstars is an investor and consultancy for tech startups. It mentors startups and new founders on how their businesses should be run and connects them with successful startup founders. Barckley, the sole member of Techstars' Salesforce team, manages the company's two Salesforce instances. His responsibilities include identifying user needs with regard to incoming customer data, developing Salesforce applications to serve those needs, maintaining Salesforce integrations with outside systems and developing automation.

Barckley began using Gearset for metadata migration. He said the tool allowed him to do "true DevOps" by maintaining and rolling back changes between the Salesforce environment's metadata and what he had developed on Techstars' GitHub account. When he started using the beta version of Gearset Data Backup, he said he found it convenient to have software deployment management, metadata backup and record backup handled by the same product.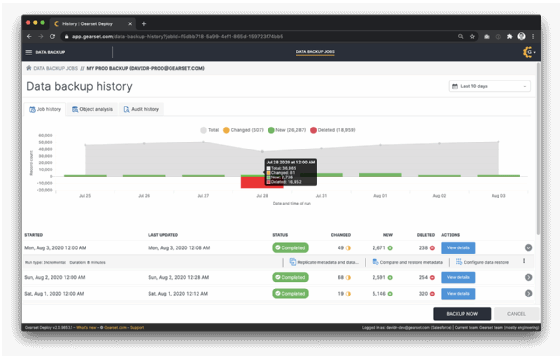 Prior to Gearset Data Backup, Barckley relied on Salesforce's native tools to back up Salesforce records. This was a weekly export of unconnected ZIP files that involved a tedious and complicated restore process. Barckley then looked at OwnBackup, but he found the product to be too narrowly focused on Salesforce data backup and recovery. He didn't want to have separate tools for Salesforce backup and Salesforce software development.

"I'd rather have a tool that is metadata-focused first, and then it also backs up your data on top of that," Barckley said.
Dig Deeper on Data backup and recovery software