Fotolia
How to perform a Windows XP upgrade to Windows 8.1
As organizations must now implement a Windows XP upgrade to Windows 8.1, they should understand that Windows 8 and 8.1 aren't identical and use the Windows 8.1 Upgrade Assistant.
In October 2013, Microsoft released Windows 8.1, partly in response to some of the criticisms lobbed at Windows 8. Soon after, the company started pushing its enterprise customers into a Windows XP upgrade to Windows 8.1 machines. Unfortunately, Microsoft provided no easy migration path from the old operating system to the new one, but the upgrade to Windows 8.1 may still be helpful through 8.1's Upgrade Assistant.
Windows XP support ended in April 2014, leaving IT teams to face what they had hoped to put off indefinitely: the large-scale Windows XP upgrade to an OS that many would prefer to skip altogether.
Even if desktop administrators could make Windows 8 work on existing desktops, they still had to migrate user data and reinstall third-party programs, if they could get the legacy applications to run at all. With the XP deadline having come and gone, they now have little choice but to jump on the bandwagon in an upgrade to Windows 8.1.
Because of widespread reluctance to deal with Windows 8's touch-centric user interface, some companies have upgraded instead to Windows 7. However, that OS is nearly 5 years old, and mainstream support ends Jan. 13, 2015. Microsoft will no longer offer free incident help, address warranty claims, make design changes or implement feature requests after that date. Beyond that, limited extended support kicks in -- mostly security hot fixes -- but only until Jan. 14, 2020.
Most organizations will not want to face another migration so soon, but XP is no longer a viable option without third-party support. As a result, many companies have finally relented and are preparing to make the switch to Windows 8.1, despite the lack of a clear migration path and an even greater lack of enthusiasm.
Making Windows 8.1 work
Microsoft is clear about one thing: Windows 8.1 is not designed for XP-era machines. Even if you can get Windows 8.1 installed and running, some of its features might not be available. Admins should review the Windows 8.1 system requirements to determine whether older computers will even support the new OS.
Most organizations will not want to face another migration so soon, but XP is no longer a viable option without third-party support.
If you have a group of computers set up with similar hardware, you can pick one to assess for compatibility. You might, for example, run Microsoft's Upgrade Assistant on that PC to check whether that machine and its connected devices will work with the new OS. But you have to use the right Upgrade Assistant.
The Upgrade Assistant for Windows 8.1 does not work on Windows XP, as surprising as that might be. Instead, you must use the previous Upgrade Assistant -- the one developed for Windows 8. No worries, though, at least according to Microsoft. The system requirements for Windows 8 and Windows 8.1 are "nearly" identical.
Despite this rather questionable tactic, the Upgrade Assistant is still worth a try and should give you a good sense of the hardware's compatibility with Windows 8.1. Plus, Upgrade Assistant will also check whether the desktop apps on an XP system will work in Windows 8 -- not Windows 8.1. I'll look at other migration tools in my next article.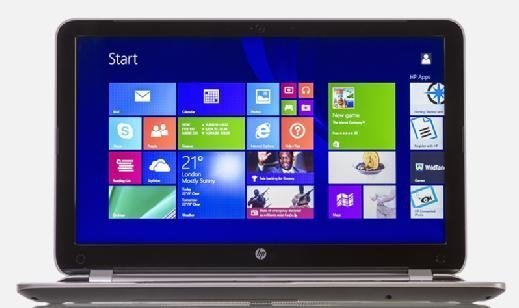 To help you further verify a system's compatibility, Microsoft also provides the Windows Compatibility Center, which has additional information about application and device compatibility. You can also check with the hardware and software manufacturers themselves about running their products on Windows 8.1. Of course, if a proprietary business app is built specifically for an organization, it may require more work.
Your next step, then, should be to set up a Windows 8.1 machine to test for any application or device problems before you roll out your deployment. You can download a free Windows 8.1 evaluation copy to test hardware and legacy software. If you're buying all-new hardware, you need to be concerned only with the apps.
According to Microsoft, most programs created for earlier versions of Windows should work in Windows 8.1, but be sure to test everything out. If an application doesn't work properly, you might find additional help on Microsoft's website.
If, after all that, you still can't get an application running in Windows 8.1, you'll have to find an alternative program or create a Windows XP virtual machine to run it. Keep in mind, however, if you take the latter approach, be sure to isolate the VM to the greatest degree possible. After all, one of the reasons for a Windows XP upgrade to Windows 8.1 is that XP is no longer supported, which can open the system up to all sorts of security risks.
Next Steps
A complete guide to Windows 10 migration
Your desktop Windows 10 upgrade strategy
I finally made it to Windows 10, and can't really see why any businesses would do the same