Five rapid application development tools to consider for mobile
Rapid mobile application development vendors offer a variety of options, from low-code and no-code platforms to micro apps, workflow apps and more.
Rapid application development tools can help organizations more easily mobilize business processes and workflows.
The demand for enterprise mobile apps has never been greater, but it remains complex and expensive to build and deploy them. Rapid mobile application development tools aim to break down these barriers.
Some of these tools enable employees with little to no coding skills to build apps using a graphical user interface. Others create simple apps that perform only a few tasks -- or even just one.
Several vendors on the market take these and other approaches. Let's take a look at them and their rapid application development tools.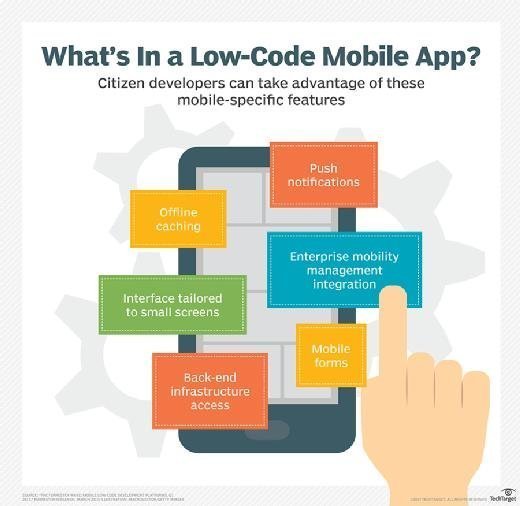 Alpha Software
Alpha Anywhere, Alpha Software Corp.'s platform, provides both no- and low-code rapid application development tools. Developers and others can use these tools to create web apps, hybrid mobile apps -- through integration with Adobe's PhoneGap Build service -- and mobile forms.
With Alpha Anywhere's offline capabilities, users of apps built on the platform can save data on their devices if they don't have internet connectivity. Also, IT can control how that data synchronizes with back-end applications and databases when a connection is restored.
Capriza
Capriza Inc. got its start as an application refactoring vendor that enabled organizations to transform desktop web applications into mobile-friendly web apps. As that market faded, the company itself underwent a transformation.
Today, Capriza focuses on mobilizing approval processes. Approvals typically require access to multiple apps, which can be cumbersome on smartphones and tablets. Capriza utilizes a drag-and-drop interface through which designers can create a unified, virtual, browser-based front end that integrates with multiple apps on the back end.
PowWow Mobile
Like Capriza, PowWow Mobile Inc. began as an app refactoring vendor, but it pivoted to rapid application development tools. The company acquired refactoring competitor Starmobile in 2016, and it has since integrated that technology into its SmartUX Platform.
PowWow provides both low- and no-code development capabilities, plus integration with enterprise applications and data stores. It also enables users to build an app once and run it on multiple operating systems, including Apple iOS, Google Android and Windows 10, as well as in any web browser.
Sapho
Sapho Inc. offers a portal where end users can view and interact with all the information they need to do their jobs. For example, they can submit and respond to approval requests or view and act upon analytics reports.
These actions take place in what Sapho calls micro apps, which IT professionals design through a drag-and-drop interface. The apps can integrate with a range of services, from back-end applications and data stores to enterprise mobility management and identity management software.
ServiceNow
ServiceNow Inc. acquired SkyGiraffe in 2017 and is in the process of integrating its no-code rapid application development tools into its IT service management platform.
SkyGiraffe's tools enable organizations to build and deploy native mobile apps for iOS, Android and Windows 10, as well as HTML5 web apps. Its Integration Server enables these apps to access corporate applications and databases and enables IT to apply and enforce security policies on the apps. Its Distribution Server provides authentication and single sign-on capabilities through integration with Microsoft Active Directory and OAuth.