What is UX research?
User experience (UX) research is the study of learning what end users of a system or product need and want, then employing those insights to enhance the design process for products, services or software.
UX research can take different forms depending on the area of focus. For example, for product teams, UX research could mean validating concepts and prototypes. For marketing teams, it might mean testing brand designs and messaging before launching products.
When conducting UX research, researchers study the motivations, behaviors and needs of users by analyzing how they perform certain tasks. UX research can also approach testing by working directly with users, remotely observing users using digital tools or conducting surveys to collect user feedback.
UX research methods and approaches
Like many types of research, studies on UX behaviors embody a number of different approaches to testing, data aggregation and garnering information. This involves both quantitative and qualitative methods.
Using quantitative research methods, UX researchers test proposed hypotheses about users' behaviors and attitudes based on a system of numerical and statistical evidence. Quantitative methods uncover, for instance, what percentage of people can successfully find a button on a page or how many users clicked on a particular link.
Meanwhile, qualitative UX research focuses on understanding why users behave the way they do or their reasons for wanting things to work a certain way. Qualitative research can be done via observations, field studies, moderated usability tests and user interviews. This research aims to comprehend the human side of data by trying to understand the underlying reasons and motivations that cause consumers to act the way they do.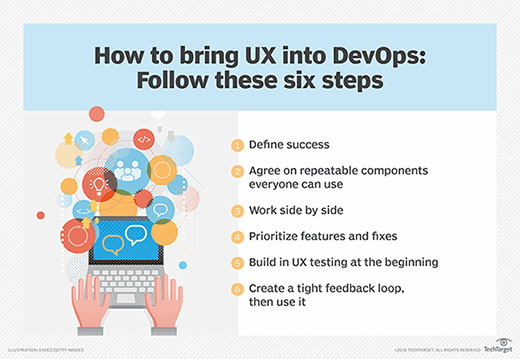 While not an exhaustive list, here are some of the most prominent forms of UX research in use today:
Card sorting. A technique that assesses and designs the navigation and structure of an application or website by giving individuals a list of related items (for example, a sample inventory listing for an online supermarket) and asking them to group the items in a way that makes the most logical sense to them.
Contextual interviews. Monitored sessions where UX researchers observe users in their natural environments and ask questions to gain firsthand accounts of their experiences.
Focus groups. A moderated feedback approach where a panel of users are asked to discuss their experiences among themselves, either in moderated or open formats, to help researchers learn more about the group's attitudes, ideas and wants.
Expert reviews. Accredited and verified evaluations of a website against a list of established industry standards or other governing guidelines.
Surveys. A selected series of questions posed to a number of users that help researchers learn about the individuals who use the end product.
Usability testing. An evaluation technique that attempts to uncover the problems and frustrations users have with a site through one-on-one sessions where users perform tasks using a particular software application or other product.
A/B testing. An assessment technique where users take part in blind studies that randomly assign those users to different versions of a website, application or other software product.
What are the benefits of UX research?
UX research helps organizations in many ways, but the following are some of the oft-cited benefits of performing UX research on a regular basis:
Understand how users experience websites, mobile applications, products and prototypes.
Evaluate and improve ideas and prototypes based on the findings of the UX research, enabling organizations to make the right design decisions early in the development process.
Discover new customer needs and business opportunities.
Find and fix flaws in products and services.
Provide better user experiences than competitors.
Understand every user interaction across the entire customer journey.
Develop a more useful picture of the target audience for better advertising and marketing.
UX researcher role and responsibilities
The role of a UX researcher is to uncover user behaviors, needs and motivations to make products, services and websites more intuitive and enjoyable for users. Using qualitative and quantitative methods, they conduct comprehensive research and share the insights from research with the UX designers. The goal of the UX researcher is to make the overall design process smoother and more productive.
Some typical responsibilities of the UX researcher include:
Create a well-crafted research plan with clear objectives.
Build a picture of the target users based on their needs, wants, motivations and challenges.
Write usability research screener questionnaires and discussion guides.
Recruit targeted users for specific research studies.
Moderate one-on-one usability sessions.
Develop and implement quantitative surveys.
Conduct client and stakeholder interviews.
Provide actionable and meaningful recommendations for the product team.
Present findings of the design research to a larger team clearly and in an organized manner.
Work closely with the product team to identify research goals.
Establish and implement an overall research strategy.
Best practices to conduct UX research
The following are some of the most important considerations to keep in mind when implementing a UX research initiative:
Understand the needs and behaviors of users. This is key to building a product people want to use. Employ qualitative research, including studies and one-on-one interviews, to understand users' behaviors and desires.
Pay attention to the differences in user behavior. After moving to the quantitative stage of measuring user behavior, don't just focus on the behaviors of the majority because not every user behaves the same way. Ask what you can learn from the behavior of the minority. Be open to every possibility, even if the findings don't align with the initial assumptions.
Do UX research at every stage of a project. Although it may be best to conduct most research at the beginning to ensure the project is on track, it's also important to save some resources and budget to also conduct research later in the project.
Conduct usability testing during the refinement and iteration phase. This will help provide an indication of what features should be added and what needs to be fixed by revealing how users interact with early versions of the product.
Communicate the findings of usability tests, studies, quantitative and qualitative research, and user interviews with the developers working on the product. UX researchers should translate their users' needs into the technical language that the developers and the product team will understand.
How to become a UX researcher
While there are many paths to become a UX researcher, most job postings suggest that those interested in the career should possess the following certifications and skills:
A bachelor's degree in computer science, psychology, marketing or another related field.
Experience conducting user research using qualitative and user-centered design methodologies.
In-depth understanding of user interface design.
Working knowledge of behavioral analysis, quantitative methodology and statistics.
General problem-solving and critical thinking skills.
Good teamwork, communication and collaboration skills.
Strong organization and time management skills.
This was last updated in
June 2023
Continue Reading About UX research
Dig Deeper on UI and UX design