creative soul - Fotolia
Want to make software developer hiring easier? Be flexible
Developers are still in short supply, but companies can hire and retain talented people through a flexible and learning-driven workplace, according to insights from a HackerRank survey.
Forget what you think you know about software developers -- at least when it comes to hiring. They're not financially motivated, they're largely self-taught, and one in four of them learned how to code before they could drive a car.
And here's one more surprise: Their potential employers aren't looking for prospective developers' degrees; rather, they're looking at their latest GitHub project.
Those insights, from a just-released survey of over 39,000 development professionals by technical hiring platform HackerRank, offer a unique view at both sides of the often-fraught software developer hiring process. Coders remain in very short supply around the world, and it's tempting to think salary and tech tools lure developers, while employers prioritize a top-notch college degree. Apparently, it's not nearly that simple.
Survey respondents ranked compensation as only the third most important factor when choosing a new job, after work-life balance (56.5%) and professional growth and learning (55.1%). But only 27.4% said a company's technology stack was vital -- a finding so unexpected, according to HackerRank's co-founder and CEO Vivek Ravisankar, that the company did a follow-up survey and found developers really want employers to support them to work on side tech projects or coding-related hobbies. They also were clear about their work-life balance goals: 89.4% of developers want flexible working hours, and just over 80% want to work from home.
That flextime helps self-taught developers -- 73.7% of survey respondents identified themselves as such -- to continue their learning journey, which is vital for software developer hiring. According to the HackerRank survey, they'd rather go online to Stack Overflow (88.4%) or YouTube (63.8%) than learn from books. Nearly 40% want to learn Go, followed by Python, Scala, Kotlin and Ruby.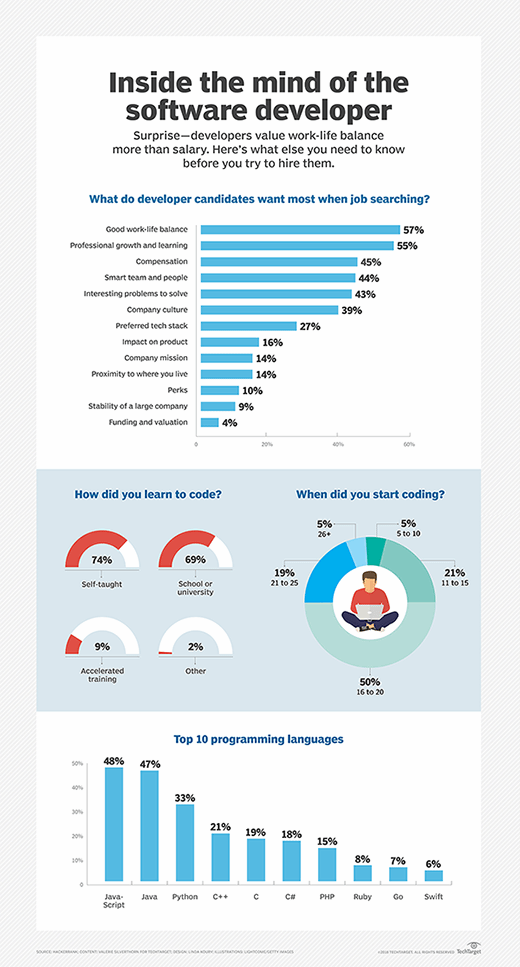 Keep learning to stay relevant
Most developers' drive to learn is simply a built-in preference, but other factors may be at play. A survey by worldwide placement firm Harvey Nash showed close to 40% of developers feel they're under pressure from automation, low code/no code tools and AI. The antidote to this, according to Alex Robbins, software development hiring recruiter at Harvey Nash, is learning.
One in four developers learned how to code before they could drive a car.
"Skills learned five years ago are often no longer relevant today," he said. "[Our survey] revealed that 95% of tech experts are spending time developing their skills, and four in 10 are actually paying for training out of their own pocket."
That should pay off, Ravisankar said, because employers want to see a prospective employee's experience and what they've done. When executives hire software developers, the vast majority (84.1%) look at a developer's portfolio, which in most cases means GitHub. Just over 71% consider previous experience, but only 35.4% take education into account.
When looking at GitHub, employers evaluate problem-solving skills, rather than programming language fluency. Over 94% of companies of all sizes indicated problem-solving skills were their top priority in software developer hiring, while less than 60% emphasized programming languages or debugging.
The focus on problem-solving has been a long time in coming, but fits with the software development market today, said Robert Stroud, principal analyst at Forrester Research. "There's a worldwide shortage of developers still, but we need the developers we have to focus on learning the business," he said. Coders, too, must avoid distraction with the shiny new toy of a hot language, he said.
Ultimately, it helps to know what motivates coders, but software developer hiring is still a battle, said Ernest Mueller, longtime developer and now director of engineering operations at AlienVault, headquartered in San Mateo, Calif.
"There's more supply now than there's been of developers, but demand is not going away," he said. The work needs to be interesting, and employers must be prepared to pay for them -- particularly if they have experience. Amounts vary, but a software engineer's median base pay was $85,651 in December 2017, an increase of 1.6% year over year, according to data from job and recruiting site Glassdoor.
Dig Deeper on Software development team structure and skills