kentoh - Fotolia
NetApp NVMe AFF array plays capacity tune for AI listeners
NetApp pumps out an NVMe-ready All Flash FAS array with 30 TB Samsung drives and 700 TB of usable storage. SAN users can upgrade to FC over NVMe on select OnTap systems.
NetApp today became the latest legacy storage vendor to hop aboard the nonvolatile memory express flash bandwa...
Continue Reading This Article
Enjoy this article as well as all of our content, including E-Guides, news, tips and more.
gon.
The NetApp NVMe-based array is an addition to the vendor's flagship All Flash FAS (AFF) lineup. The AFF A800 is equipped with Broadcom's Brocade NVMe over Fibre Channel (FC) switches and will ship later this year with 30 TB Samsung SSDs. NetApp said it will market the AFF A800 to enterprises looking to adopt AI and machine learning applications.
Accompanying the AFF A800 to market is NetApp OnTap 9.4 operating software, along with enhanced NetApp Active IQ analytics. The vendor is also previewing Cloud Volumes for Google, which will make its file services available on Google's public cloud.
NetApp OnTap allows SAN customers to transition to NVMe over FC
NVMe is an emerging standard for flash and memory-based storage technologies. It promises a dramatic reduction in latency, achieved by eliminating the SCSI commands transported by host bus adapters. NVMe allows storage to talk directly to a computer's processor via a PCI Express link.
Established storage vendors have integrated NVMe flash for back-end connectivity between SAS-connected SSDs and controllers, while using existing FC or SCSI for host connectivity. Industry observers said the next phase is the development of rack-scale flash systems built with NVMe over Fabrics (NVMe-oF) to extend low-latency flash end to end across the data path.
The NetApp NVMe AFF news comes a week after archrival Dell EMC revamped its VMAX all-flash arrays, now branded as PowerMax, to support NVMe flash. It also comes a day after Hewlett Packard Enterprise updated its Nimble Storage arrays to support NVMe and storage-class memory.
NetApp said a 24-node AFF A800 cluster supplies 79 PB of raw storage, scaling to 316 PB based on presumed 5-to-1 data reduction. Maximum effective capacity for a two-node availability cluster is 26.4 PB.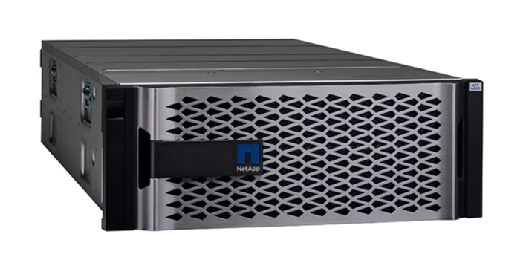 The NetApp NVMe array is a 4U chassis, with two high-availability controllers and 48 SSD slots. Technical specs for AFF A800 include up to 12 two-node pairs for high-availability, scale-out NAS, with up to 2,880 SSDs. A SAN scale-out configuration supports six two-node pairs and 1,441 SSDs. Enterprises can add 2 PB of flash for secondary workloads by inserting a 2U drive shelf.
"Over the long term, the NVMe will be the predominant interconnect for SSDs. What we've done with the AFF A800 is to make it capable of having an NVMe-oF front end. That technology will replace legacy SANs," said Joel Reich, a NetApp executive vice president of products and operations.
Enterprises can accelerate SANs with a software upgrade with select OnTap-based storage, Reich said.
"You can upgrade an existing all-flash array to OnTap 9.4 and put in the front-end infrastructure to run NVMe over Fabrics," he said. "You'll still have your old SAS drives, but you get all the benefits of the front-end interface, with no forklift upgrade. That's a core tenet of how we're building things now at NetApp."
NVMe code contributions helped move the needle on issues such as multipathing and interoperability design with network component vendors, Reich said.
Startups Apeiron Data Systems, E8 Storage and Vexata are shipping NVMe-oF arrays with commodity servers. Among larger vendors, Pure Storage said it will start shipping NVMe arrays this year, and IBM in December previewed a FlashSystem 900 model designed with NVMe-oF for InfiniBand.
Analyst firm IDC predicts NVMe-based all-flash systems will account for more than 50% of primary external storage revenue by 2021. Eric Burgener, an IDC research vice president of storage, said NVMe-oF will help NVMe pass SCSI SSDs, although demand will build slowly.
"The question is whether a customer really needs the level of performance of end-to-end NVMe flash," Burgener said. "If they do, then they need to have an NVMe-over-Fabrics connection on the front end to run mixed consolidated workloads on it. I don't think [vendors] are going to sell a lot of those types of NVMe systems this year. They'll see a few to customers who might not need that level of performance now, but expect to grow into it. But you can still get SCSI-based versions of their arrays."
Cloud analytics, auto tiering added to NetApp Data Fabric
NetApp added Fabric Pools to its Active IQ predictive intelligence. Active IQ intelligently spots cold or inactive data and automatically moves it from flash to a low-cost NetApp Fabric Pool cloud tier of Amazon Glacier or Microsoft Azure Blob storage. Support for the Google cloud is on NetApp's roadmap. NetApp acquired Active IQ predictive analytics when it picked up all-flash startup SolidFire in 2015.
Reich described NetApp Cloud Volumes for Google Cloud Platform as step one in a partnership between the two vendors. The cloud-native file services are aimed at developers who need to migrate data locally and between multiple hybrid clouds by replicating using NetApp Snapshot clones and copies. NetApp already supports cloud-native files in AWS and Azure.
"The world's different now. In the cloud, the developers get to choose their workloads," Reich said. "They don't care about infrastructure; all they want is simple and straightforward. We want to make this available in the cloud and make it simple so developers can use it."
Automated tamper-proof data protection of a customer's sensitive financial and personal data was integrated in NetApp StorageGrid object storage, an outgrowth of the European Union's General Data Protection Regulation and other emerging international data compliance regulations.