Edelweiss - Fotolia
All-flash and hybrid HPE Nimble Storage arrays get updates
HPE enhances its Nimble all-flash arrays with support for NVMe and storage-class memory. Additionally, the vendor collapses its hybrid systems into one product line featuring deduplication.
Hewlett Packard Enterprise has updated its all-flash Nimble Storage arrays to enable support for NVMe and storage-class...
Continue Reading This Article
Enjoy this article as well as all of our content, including E-Guides, news, tips and more.
memory technologies, improve price-performance and provide a new capacity guarantee.
The All Flash (AF) series of Nimble Storage arrays has a new 6 TB entry-level model and can scale up to 800 TB of raw capacity across a four-node cluster with the high-end AF80 system. Hewlett Packard Enterprise (HPE) claims the midrange AF40 and AF60 deliver as much as a 220% performance improvement over the prior generation.
On the hybrid side, HPE is consolidating its two lines of Nimble Storage arrays equipped with SSDs and HDDs into a single Adaptive Flash portfolio. The new HF-Series of hybrid arrays features always-on inline data deduplication in all models except the "cheap-and-deep" HF20C, which targets media workloads that are unlikely to benefit from the data-reducing technology, said Dave Kresse, vice president and general manager of HPE Nimble.
HPE previously sold two separate hybrid lines to emphasize performance, with the Adaptive Flash Array CS-Series models targeting primary workloads and stress capacity in the Secondary Flash Arrays (SFA) that offered data deduplication for backup and disaster recovery, Kresse said. HPE was able to boost the performance enough to support always-on deduplication across its hybrid array product line for both primary and secondary use cases, he said. The SFA line is being discontinued.
The raw capacity for the hybrid HF-Series starts at 11 TB for the HF20H and scales to more than 1 PB with the HF60, or about 5 PB in a four-node HF60 cluster. HPE claims the HF40 boosts performance by as much as 150% over the prior midrange hybrid model, and the maximum-capacity HF60 is 65% faster than its predecessor.
Future-proofing all-flash arrays
With its updated Nimble Storage All Flash series, HPE sought to future-proof the arrays, so customers won't have to rip and replace the systems to move to higher-performing, lower-latency nonvolatile memory express (NVMe) and storage-class memory (SCM) technologies in the future.
"We aren't yet seeing this class of media or this protocol widely used in the marketplace, given its price point today. But we do expect that to happen likely next year and certainly wanted to design this platform in a way where it could take advantage," Kresse said.
On the hardware side, HPE had to change the backplane to support the NVMe protocol and add ports, cabling and carriers to support the new class of SCM devices that talk directly to the CPU through a PCI Express connection, according to Sakthi Chandra, senior director of product marketing at HPE Nimble. HPE also enhanced Nimble Storage's Cache-Accelerated Sequential Layout file system to support new devices and media as they become available, he said.
"For example, we can definitely take in and accommodate NVMe over Fabrics very similar to how we introduced iSCSI and Fibre Channel, because it's all completely modular. It's easy for us to add in the support for those protocols as they become mature," Chandra said.
Nimble's move to become NVMe- and SCM-ready is part of a major industry shift to enable the adoption of NVMe technologies in IT organizations, noted Scott Sinclair, a senior analyst at Enterprise Strategy Group in Milford, Mass.
Another major all-flash array trend is supporting analytics software that can help to prevent infrastructure problems. One of the key reasons HPE acquired Nimble Storage in 2017 was to gain access to the company's InfoSight predictive analytics engine. HPE has since extended InfoSight beyond Nimble to its 3PAR storage arrays.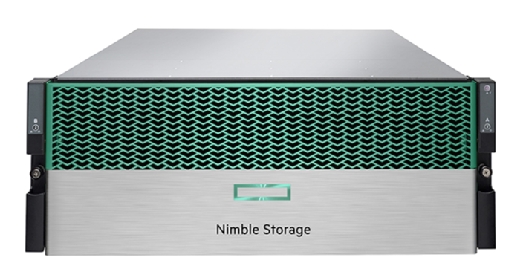 HPE's Store More Guarantee
With its newly announced Store More Guarantee, HPE promises to store more data per raw terabyte in its Nimble all-flash arrays than any other vendor's all-flash arrays, or it will add more capacity to make up the difference at no charge. The pledge takes into account the array's capacity after data-reducing technologies, such as deduplication and compression.
"There are some guarantees out there, but they tend to have asterisks and all sorts of conditions under which that happens," Kresse said. "No conditions here -- very straightforward. We have high confidence in our ability to deliver on this."
To cash in on the HPE guarantee, customers could compare the effective capacity of the Nimble AF-Series to their existing all-flash storage arrays. Or, they could do a proof of concept, pitting Nimble's AF-Series against one or more all-flash arrays from other vendors.
"We believe that 90% of the time, customers will take HPE's word on the guarantee, and they don't have to really go through that," Chandra said. "For us to go through the validation that we have done internally, we had to be more than 100% confident that our arrays will stand the scrutiny if we were able to be challenged."
Eric Burgener, a research vice president for storage at IDC, said HPE is trying to drive higher customer satisfaction with its Store More Guarantee. He predicted customer satisfaction will become a stronger differentiator for all-flash array vendors now that the top 10 vendors have similar feature sets.
"Pure Storage is the leader with its Evergreen Storage, and Dell EMC announced its Future-Proof Storage Loyalty Program in December 2017. HPE's Store More Guarantee and the extension of a 'six nines' availability guarantee option on new, shipping Nimble equipment bring it much closer to Pure's Evergreen Storage," Burgener wrote in an email.
"However, the Store More Guarantee only applies to Nimble models with inline compression, deduplication and zero block elimination enabled, not 3PAR. Pure and Dell EMC's guarantees in this area apply to their entire line of enterprise storage products -- although how they measure 'storage efficiency' may vary between vendors, so buyers need to make sure they understand how the storage efficiency guarantees are calculated when comparing offerings from different vendors," he continued.
New all-flash Nimble storage arrays
The new all-flash Nimble Storage arrays start with the 6 TB AF20Q, followed by the AF20, AF40, AF60 and AF80. HPE claims a four-node AF80 cluster could store 4 PB after data reduction and offer submillisecond latency.
Kresse credited the performance improvements to software and the engineering team's efforts to write code that can take advantage of new, off-the-shelf commodity hardware equipped with more powerful CPUs. HPE declined to share specifics on the hardware.
"Our architecture is CPU-bound, rather than spindle-bound, which essentially means that for every generation of the Intel CPUs, even if we did nothing in terms of our software, you would get the benefit of the CPU just getting better," Chandra said. "But we have definitely improved the performance side of the house, for example, to take advantage of expanded SSD and the NVDIMMs [nonvolatile dual inline memory module] in terms of how we treat our metadata and caching."
The starting list price is $65,000 for the all-flash Nimble Storage AF-Series and $45,000 for the hybrid HF-Series, according to HPE.
The all-flash competition for HPE Nimble Storage consists of midrange arrays, such as Dell EMC Unity; lower capacity models from Pure Storage and Kaminario; and arrays from smaller vendors, such as Tegile and Tintri, Burgener said. HPE is behind some vendors with its NVMe support and with its NVMe-over-Fabric roadmap not publicly disclosed, he added.
"The absolute need for NVMe performance is not really there yet for most commercial enterprise workloads, but it will clearly be growing over time," Burgener said. IDC has predicted, by 2021, NVMe-based primary storage arrays will drive more than half of primary storage revenue for external storage, overshadowing SCSI-based systems, he said.
SCM will happen later for everyone, Burgener said, mainly because the technology is having trouble maturing. He noted that Intel's Optane is the best known option, but it still isn't shipping in volume.