Nimble Storage All Flash Arrays (AF-Series)
Nimble's first all-flash array family scales from 20 TB to petabyte and 8.2 PB of usable storage and 1.2 million IOPS per four-node cluster.
Gold winner in the Storage magazine/SearchStorage.com 2016 Products of the Year All-Flash Systems category.
Nimble Storage introduced the Predictive Flash Platform AF-Series all-flash arrays in 2016, after years of exclusively selling hybrid arrays that mix spinning disk with solid-state drives. Previously, Nimble Storage all-flash customers were recruited by adding an optional all-flash expansion shelf to its CS Series hybrid arrays.
AF-Series Fibre Channel- or iSCSI-connected block storage arrays use 3D NAND triple-level cell (TLC) SSDs across four AF Series models: AF3000, AF5000, AF7000 and the flagship high-capacity AF9000.
AF-Series arrays share common data services with Nimble Hybrid Adaptive Flash arrays, allowing customers to build a mixed four-node cluster with unified management. A single all-flash AF-9000 cluster can scale to more than 8 PB of effective capacity in 12U with Nimble's proprietary inline data compression and deduplication, with rated throughput of 1.2 million IOPS.
As with its hybrid storage, Nimble Storage all-flash arrays integrate the vendor's cloud-based InfoSight Predictive Analytics. InfoSight correlates billions of data points to monitor the behavior of virtual machines to pinpoint potential issues across the infrastructure stack. Nimble claimed its combination of predictive analytics and triple-parity RAID yields five nines of availability.
Nimble Timeless Storage guarantees AF-Series 3D TLC NAND flash media for seven years, and allows customers to upgrade to a higher performance flash controller after three years.
In rating the AF-Series entry, judges noted the flexibility that stems from Nimble's flash fabric, which builds on its Cache Accelerated Sequential Layout (CASL) architecture for Adaptive Flash hybrid storage.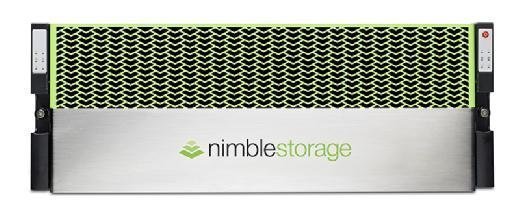 "(AF-Series) uses the Nimble architecture with flash, which complements each other. Good scalability," one judge wrote.
"VM centricity is still strong value prop and ability to convert to hybrid storage is also good," another judge added.
The Nimble Storage all-flash arrays support VMware, Microsoft Azure, Docker containers and OpenStack cloud. They also support multi-tenancy with secure isolation and quality-of-storage management services. Integrated data protection allows you to move application-specific archive, backup and disaster recovery copies from Nimble Storage all-flash primary storage to secondary tiers of Adaptive Flash arrays. Pricing starts at less than $40,000 for the Nimble AF1000 base building block.
Next Steps
Nimble waits to reap rewards of all-flash investment
Nimble Storage adds to Predictive Flash platform
Startups, specialists lead 2016 all-flash product roundup